Paddy Digby was a more than worthy winner of a Rollins Insurance-sponsored stableford event at County Armagh Golf Club on 21 September.
With his first-half progress bolstered by birdies at the 2nd and 8th, Digby accumulated a healthy 19 points on the front nine, but it was on the way home that the then six-handicapper really got into his Saturday stride.
That fantastic level-par back nine was made up of seven pars, one bogey and another birdie at the 12th. And it all added up to an outstanding gross 72 and 40 points that landed Paddy a new handicap of five in addition to his CAGC tournament success.
The Rollins runner-up berth was occupied by Tom Calvert, who also racked up 40 points and missed out on the main honours only due to Paddy's aforementioned homeward heroics. Former Captain Tom rounded off a customarily expert performance with a birdie at the 18th. That Cathedrals three put the icing on Calvert's cake, the other main ingredients of which were 10 tasty pars.
Elsewhere, Marty Gill gave an indication of what was to follow the next weekend — when he won 2019's final qualifier — with a 38-point showing that saw him climb to the top of the category 1 tree. Gill, who went one better than Digby in an exceptional 35-stroke back nine, was trailed most closely in the 0-12 bracket by Samuel Jenkins. 2017 Captain's Prize champion Jenkins also accrued 38 points, courtesy of a marvellous gross 74 that included birdies at the 10th and 14th.
Meanwhile, the uppermost reaches of the category 2 rankings was a fiercely competitive affair. Ally Dodds and Paddy Hicks each scored heavily with 40 points, and the productive pair were separated into the gold and silver spots respectively on a countback. Indeed, both players will also be particularly pleased with the manner in which they got the job done in the concluding stages: Ally parred four of the last five holes, and Hicks parred three of the last four.
Finally, Leo McCann was a merited recipient of the category 3 crown having amassed an incredible 18 points in a late six-hole blitz from the 13th to 18th. Leo's overall tally of 37 was a single point more than that yielded by the handicap-equalling outing of second-placed Gary McCusker, who rallied admirably after a listless opening spell.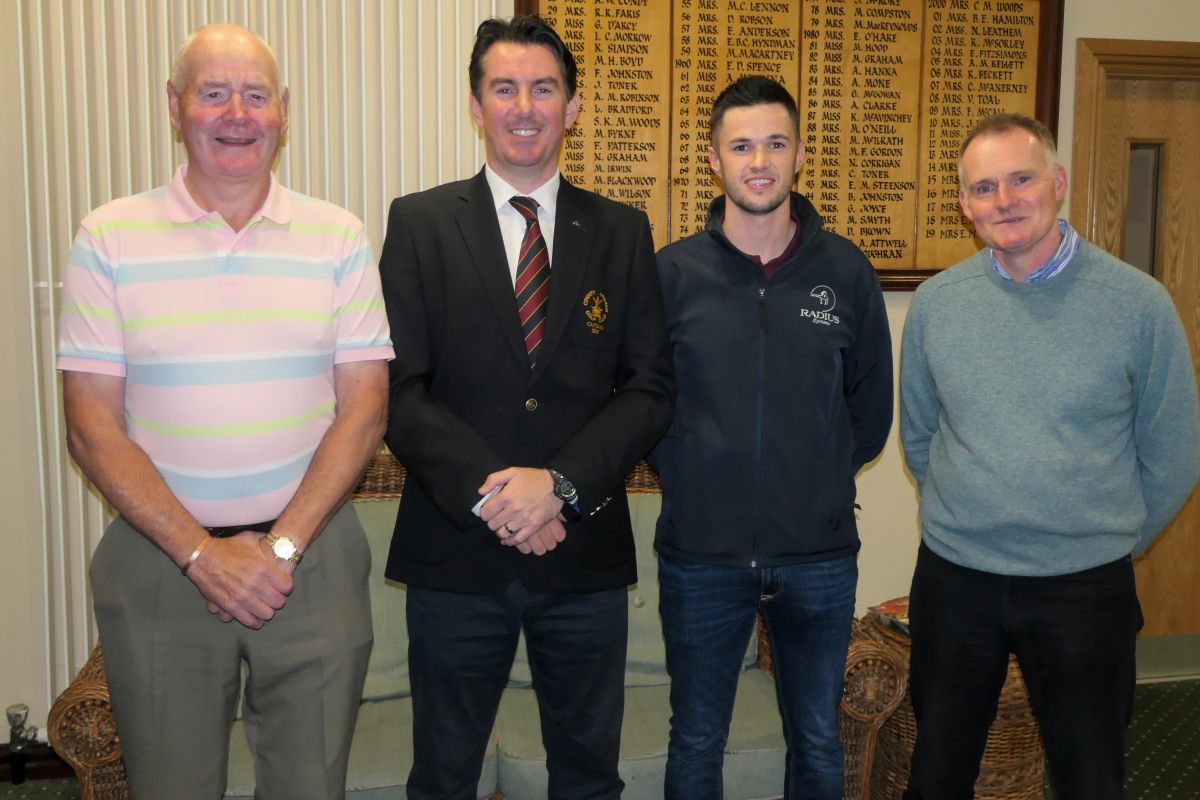 County Armagh Golf Club Captain, Kenny Edgar, is pictured alongside prizewinners in the recent stableford competition sponsored by Rollins Insurance. They are (L-R) Tom Calvert, Ally Dodds and Paddy Hicks.