A large number of ladies competed on Thursday in warm sunny weather and on a course in magnificent condition with fast greens and run on the ball. At stake were places in the Sinton Cup match play competition which is played annually between the top two competitors in the high and low handicap brackets. In addition to the match play places a selection of prizes, donated by McKinney's Timber, were awarded in a number of categories.
The nett places were secured by Helen Forster, in top spot with a 68, and Alexandra Mawhinney whose 70 secured her the second match play berth.
Helen and Alexandra's opponents in the match play will be Ellen Brady whose gross 84 could not be bettered on the day. Second place will be filled by Paula McCrory who returned a gross 86 .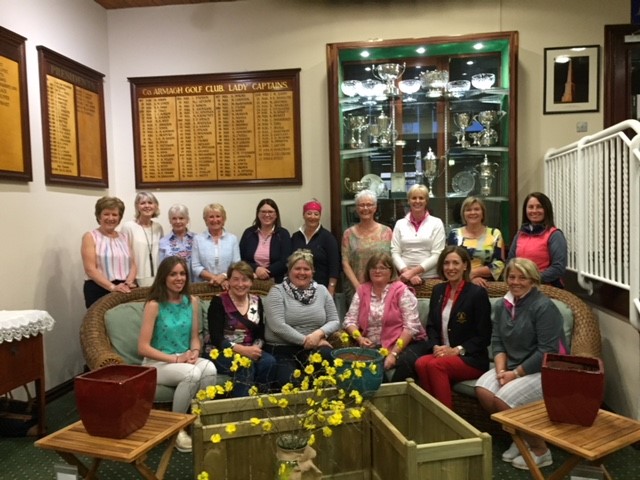 Lady Captain Elizabeth Mawhinney and sponsor Mrs Cait McKinney with prizewinners in the Sinton Cup qualifiers competition.
The semi-final draw sees Ellen play Helen and Paula play Alexandra. The eventual prize-winner will receive the prestigious Sinton Cup at the annual Ladies Dinner in December. The cup was presented to the club in 1922 by Mr Maynard Sinton.
Cait McKinney, on behalf of McKinney's Timber, presented a selection of gardening related prizes and Lady Captain, Elizabeth thanked Cait and her family for their continued generous support of the Ladies branch.
Prize-winners were as follows;
Category A Moya Brady 74 nett
Category B Pauline Gingles nett 73
Category C Carmel Cassidy nett 70
Category D Marie McGreevy nett 74
Front 9 Anne O'Hea nett 32
Back 9 Mary Black nett 38
9-hole Rita Grimley 18 points.
Gina Morris 17 points.
Birdies were recorded by Colette McSorely 4 @8 th , Mary Black 3 @ 14th, and Alexandra Mawhinney 4 @16 th . Twos honours went to Helen Forster @ 11 th and Ellen Brady @ 16 th .
Handicap cuts were applied to Carmel Cassidy 26.9, Helen Forster 13.2 and Marie McGreevy 42.3.
The nine-hole weekly competition winners were: -
R and A category 1 st Marie McGreevy 20 points and 2 nd Lynne Brown 16 points
Time for Nine category 1 st Geraldine Rafferty 19 points and 2 nd Paula McCrory 17 points.
Lady Captain Elizabeth Mawhinney wished the Junior Cup, and Cowdy teams success in their upcoming matches and she also wished Mary Black and her All Ireland Mixed Foursomes team success in the qualifying stage.