September Medal - Thursday 7 th September 2017
Despite the threat of heavy downpours, 59 ladies turned out to compete for the September Medal. Lady Captain Gail sincerely thanked the sponsor Annette of O L Flowers for attending the prizegiving and bringing with her a beautiful array of floral arrangements which brightened up the clubhouse on an evening which had a distinctly autumnal feel.
The winner of the September medal was Colette McSorley with a magnificent net 64. Accepting her prize Colette thanked Annette for her loyal support for the Ladies Branch and her playing partners who kept her focussed throughout an exemplary round of golf. Lady Captain Gail took second place with a nett 70 just ahead of Jacqueline Donnelly who secured 3 rd place with a 71. Meanwhile Ellen Brady took yet another Gross prize with 81 strokes.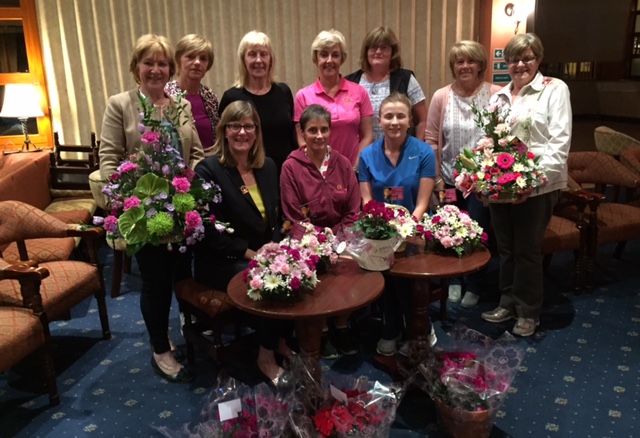 A full list of prizewinners is set out below
Category A winner with nett 72 = Teresa McVeigh.
Category B winner with nett 73 = Siobhan Donnelly
Category C winner with nett 73 = Audrey Kellett.
Category D winner with nett 81 =Anne O'Hea.
Front nine winner with nett 34 = Lily McMullan.
Back nine winner with nett 37 = Paula McCrory.
9-hole competition winner =Gladys Villiers.
Birdies were recorded by Una Cullinane at the 16 th , Geraldine Rafferty at the 17 th , Lily McMullan at the 7 th , Ellen Brady at the 17 th , and Colette McSorley at the 12 th.
Handicap Reductions = Jacqueline Donnelly 29-28, Gail Steed 19-18 and Colette McSorley 15-12.
A draw was made from the list of ladies who had expressed an interest in representing the club in the Winter Alliance. Ellen Brady will captain the team which will consist of Moya Brady, Flo McCall, Elish Grimes, Colette McAleavey, Francis Davidson, Una Cullinane, June Humphries, Ann McDonald, Sheila Stinson, Teresa McVeigh and Catherine McAnearney.
Gail urged as many ladies as possible to participate in the Past Lady Captains Classic which is to be held on Monday 8 th September. Details regarding the competition will be posted on the website.
The Lady Captain also announced that Zumba classes will resume on Thursday 12 th October at 8.15 pm and once again details can be found on the club website.