Monday 18 th September 2017.
The end of the golfing season for the Ladies of County Armagh Golf Club has been traditionally marked by the Past Lady Captain's competition. In a break from tradition this year, past Lady Captain, Una Cullinane, opted to run a team "classic" with a shotgun start. The new format proved to be a tremendous success as competitors were able to enjoy a tasty barbeque, prepared by Seven Hills, before the prizegiving.
Past Lady Captain Una Cullinane was delighted with the turnout of 19 teams who took part in the competition. Una thanked past captains Audrey Kellet, Flo McCall and Barbara Hamilton who had done so much to help organise and run the classic. She also expressed her appreciation of the support which had been given by the Men's Branch. The goody bags were generously sponsored by Eileen Stewart of Armagh Business Centre and James Hewitt of Hewitt Meats.
Una added that the course was in tremendous condition despite the heavy downpours of the previous week and the necessary autumn treatment of the greens. While many complained about difficulty finding the pace on the greens, this was not reflected in the scores of the winning teams.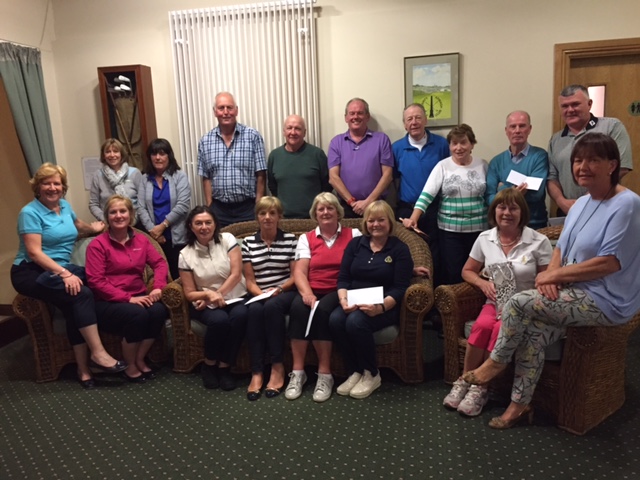 The overall winning score of 101 points was recorded by Una's own team, while prizes were also awarded for best men's, ladies and mixed teams. In addition, prizes for longest drives and closest to the pins were provided, as well as some spot raffle prizes, thanks to the generosity of the past Lady Captains.
The winners on the day were as follows: =
Nearest the pin = Gemma Rice @ 7 th and Rodney Villiers @ 11 th .
Longest Drive = Caitlin McKinney @ 17 th and Sean Dougan Junior @ 5 th .
Mixed Team = Sean Dougan, Sean Dougan Junior, Ann McDonald & Joe Roddy with 90 points.
Men's Team = Ian O'Hea, John Lowe, Anthony Conlon & Eamon O'Hagan with 98 points.
Ladies Team winners = Jacqueline Kelly, Patricia Hughes, Donna Carolan & Anne O'Hea with 87 points.
Overall Team 1 st Place = Una Cullinane, Ann Black, Breda Teahan and Gladys Villiers with 101 points.