County Armagh Golf Club's Golfer of the Year crown has been conferred on Calum Connell as fitting recognition of his triumphant season on the Cathedral City fairways.
The young player made remarkable progress this campaign, as evidenced by a massive 13-to-6 handicap reduction since April and the plethora of prizes he amassed in that time.
Connell's glory year began in earnest way back on 31 March with a 43-point outing that sealed a category win in the annual Easter Stableford.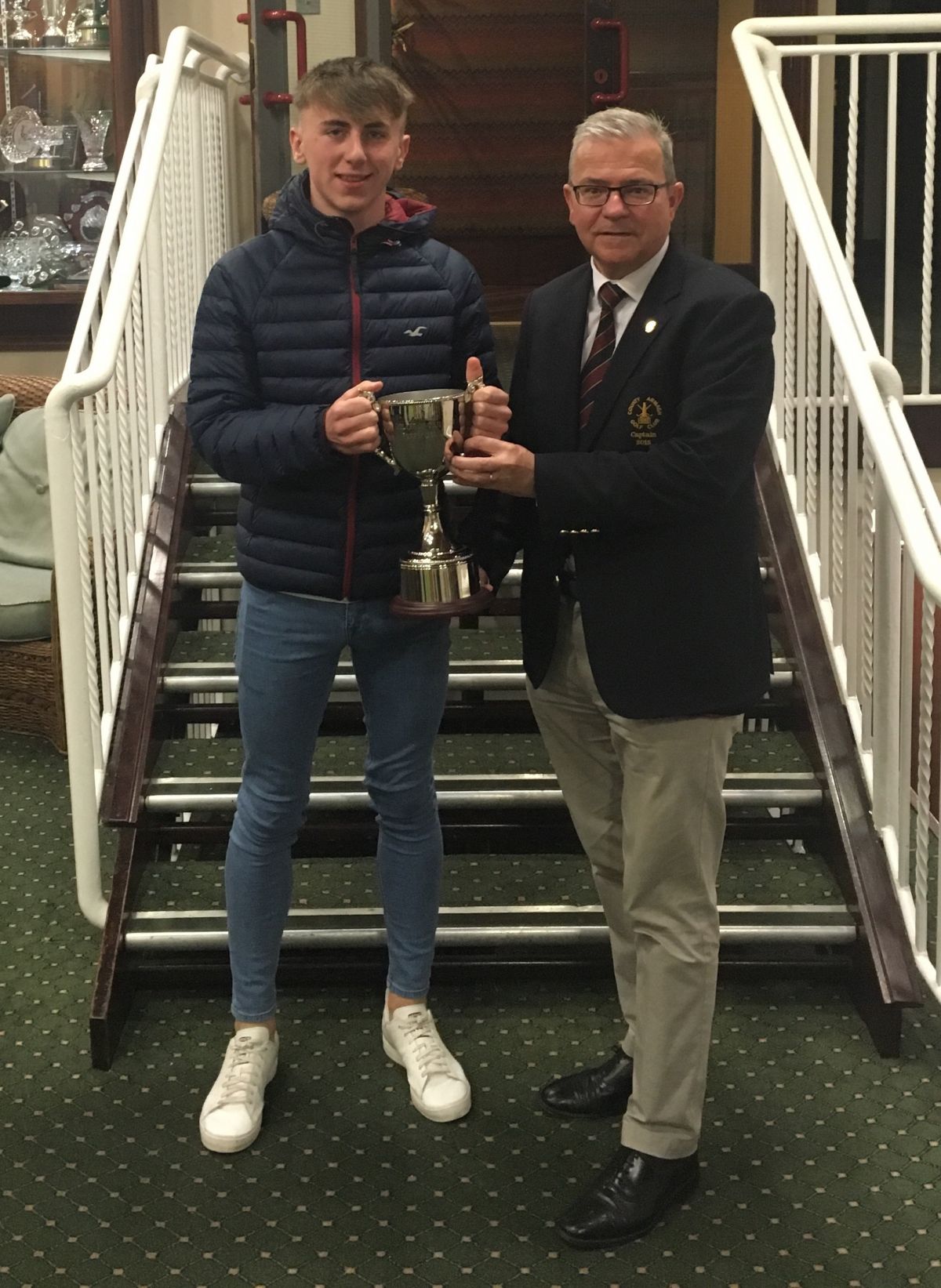 County Armagh Golf Club's Golfer of the Year 2018, Calum Connell, is presented with the perpetual cup by Club Captain, Colm Shannon.
The next three months would see the St Colman's College student collect no fewer than five category accolades, namely in a Club Stroke on 22 April, a Club Stableford on 13 May, the May Medal six days later, a Club Stableford on 27 May, and another Club Stroke on 24 June.
Then, when the temperatures really heated up, so too did Calum's scoring, as he went into overdrive from the start of July until the season's end. That fruitful summer spell kicked off with a Club Stableford tournament victory on 1 July that came courtesy of a fine 41-point display.
A hat-trick of overall runner-up awards would follow on consecutive weekends in the Junior Scratch Cup on 26 August, the September Medal on 2 September, and a Club Stableford on 9 September.
The Banbridge juvenile's club champion status was then underlined among the autumn leaves, as he notched yet another category placing in the CAGC calendar's penultimate qualifier on 7 October.
The impressive consistency that was the hallmark of Connell's golfing term was also displayed in his clinching of prizes in the Wednesday Open competitions on 9 and 16 May and 27 June.
And this 2018 success wasn't confined to individual events either, as the recently turned 16-year-old also excelled on the inter-club matchplay front as a key part of the Jimmy Bruen Shield squad that overcame Cloverhill and Kilrea, the Fred Daly Trophy group that defeated Portstewart and Cairndhu, and the Ronan Rafferty Cup crew that got past Silverwood and Banbridge.
All these performances combined to make Calum a more than worthy recipient of CAGC's Golfer of the Year perpetual trophy, on which he will have his name engraved beside the inaugural winner, the equally alliteratively-titled and enthusiastic Shea Smyth.
On collecting the accolade, Connell paid particular tribute to club professional, Will Carey, for all his expert help and encouragement, while Club Captain passed on his warm congratulations to the 2018 champion on a terrific achievement.