Whereas almost biblical rainfall had caused the postponement of the Henry and May White Memorial Open 24 hours earlier, there were no such wetness worries at County Armagh Golf Club on Sunday 24 July. And taking full advantage of these much more clement conditions was Brendan Arthurs, who fired a superb nett 65 to clinch the July Medal.
Brendan's uncertain start to proceedings in the Alexander Mills-sponsored event was soon forgotten when he parred the 3rd and then landed a hat-trick of pars from the 7th to the 9th. Arthurs had now found himself a massive five shots under his handicap at the halfway stage, which meant that a steady if unremarkable back nine was sufficient for him to deservedly get his hands on the coveted monthly silverware.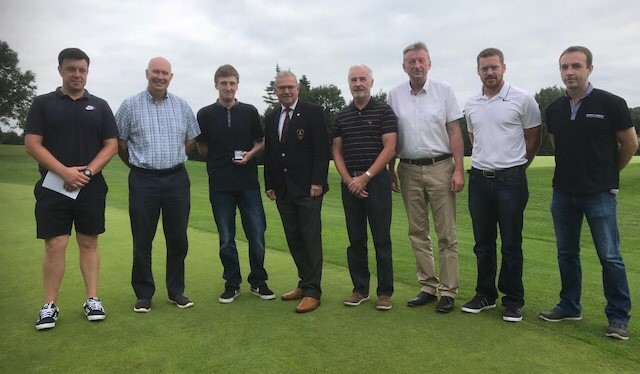 Pictured alongside Club Captain, Colm Shannon, are July Medal prizewinners (L-R): Shane O'Halloran, Aidan McParland, champion Brendan Arthurs, Niall McGeown, Declan McReynolds, Vincent McCormack and Chris McCabe.
Elsewhere, Chris McCabe's birdie up the 10th ignited an impressive four-over-par back nine that earned him a nett 66 and the overall runner-up award. McCabe has had his handicap snipped to 14 on account of this excellent gross 81, which featured no fewer than eight pars.
Declan McReynolds saw Chris's par-5 birdie and raised it to an eagle at the 12th. That Ballyheridan bonus provided the spark to Declan's hitherto pedestrian outing, and he also birdied the 17th amid a strong finish to a nett 67 that ensured his category 1 pre-eminence. In hindsight, this prizewinning display was only the beginning of a purple patch for Declan, which we'll hear more about in upcoming reports.
Equalling McReynolds's nett 67 but losing out on a break of tie was Kieran Grimley, whose terrific haul of 10 pars and a birdie at the 4th secured for him both second place in the 0-12 section and a new handicap of 10.
The summit of the category 2 standings also showed two players neck and neck on nett 67. Runner-up Aidan McParland's run of five consecutive pars from the 4th to the 8th, although splendid, wasn't enough to dislodge Niall McGeown from first position. For his part, Niall's high-quality and symmetrical scorecard incorporated 41 strokes on each nine and five homeward pars.
Aided by a birdie at the 6th, Vincent McCormack reached the turn in just 38 blows. And while the now 18-handicapper found it much tougher going on his journey back to the clubhouse, he still signed for a brilliant nett 66 that took care of business in category 3. Two shots adrift of Vincent and scooping the runner-up prize was Shane O'Halloran, who maintained his recent hot streak with a nett 68 that included a nap-hand of pars.
The sole Saturday competitor to break par was the irrepressible Philip Kelly, who nonchalantly negotiated the County Armagh challenge in 69 hits.
The July Medal was sandwiched between typically keenly contested Wednesday Open tournaments on 25 July and 1 August. In the first of those, Paul Traynor notched an Open Stableford victory by virtue of a magnificent 41-point offering that trimmed his handicap from 15 to 13, while a deadly combination of class and experience enabled Pearse McBride to prevail among the over-50s on 40 points.
A week later, Jarlath McReynolds produced a breathtaking gross 66 containing five birdies and a solitary bogey at the last. The accruing 42-point total was, unsurprisingly, the best score returned in that day's Open Stableford. Also commencing August in triumphant fashion was Niall McGeown, who backed up his category accolade the previous weekend with a 37-point performance this time out that conferred on him superiority among that Wednesday's senior contenders. And finally, in the same competition, Jonny Palmer aced the 13th with a memorable hole-in-one; well done, Jonny!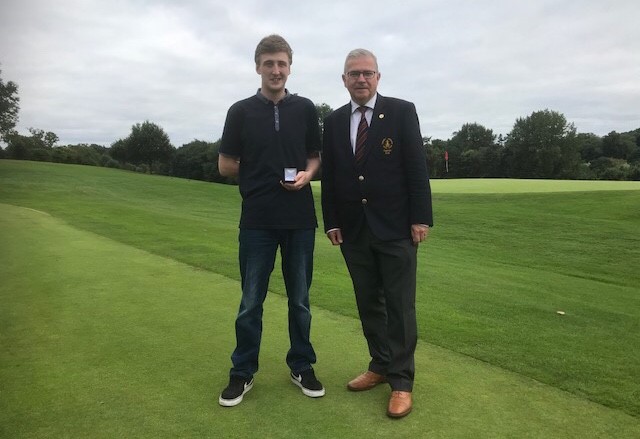 Brendan Arthurs is presented with the July Medal by County Armagh Golf Club Captain, Colm Shannon.