Consecutive July Sundays yielded victories for young and (slightly) older as Kris Calvert and then Gareth Frizell landed the spoils in stroke competitions at County Armagh Golf Club.
Teenager Kris couldn't be ousted from the leaderboard summit on 15 July after his boringly brilliant 15-par salvo contributed to a gross 74. Calvert's only dropped shots arrived in the shape of fives at the 4th, 5th and 11th, and this classy performance affords him single-figure handicap status.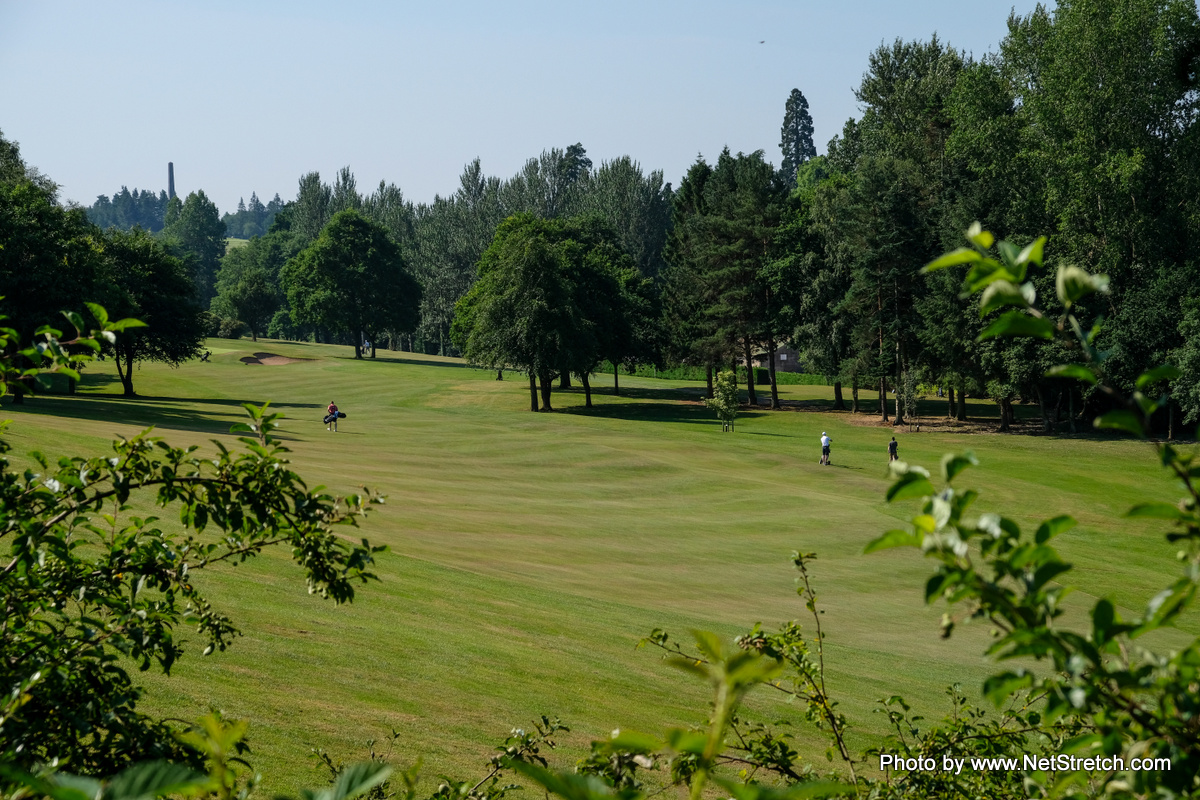 Many a great round at CAGC has been plotted from this vantage point outside the Pro Shop. Sadly, all too few have been successfully transferred from the hopeful player's pre-game imagination to the actual golf course ... but there's always next week!
One stroke adrift of triumphant tyro, Calvert, was overall runner-up, Brian Cleland, whose nett 65 peaked with a splendid stretch of six pars in seven holes from the 6th to the 12th. Cleland was denied top spot largely because his round was bookended by double bogeys at the 1st and 18th (his only two doubles of the day) but he'll no doubt be content with second prize and a two-shot handicap cut.
Michael Curley and Ian Beaddie both returned a nett 66, with the latter pipping the former to first position in category 1 on a break of tie. Beaddie's six-over-par knock was a skilfully no-nonsense affair comprising a dozen pars and half-a-dozen bogeys, while the fact that Curley's gross 78 included a couple of sevens is indicative of the high quality of his play elsewhere.
On a similar note, despite registering disappointing double bogeys at the 1st, 2nd and 16th, Anthony Hillen managed to put together a fine sub-80 showing for another nett 66 that edged Tim Teahan's nett 67 into second place in category 2. Tim's outing got better the longer it went on, and he parred four of the last seven holes.
Kevin Beagan gave a portent of what was to come a few days later (when he prevailed in the Wednesday Open) by securing category 3 success on account of an excellent nett 66 that contained a Teahan-stye closing stretch. And indeed, Beagan's strong finish represented a sucker punch for Andrew McBurney, who parred the last two to record the same nett total but was forced into the silver medal slot on a back-nine tiebreaker.
Meanwhile, a nap-hand of birdies was the backbone of Joe Rooney's consummate level-par outing, which was the lowest gross score posted in this event.
Gareth Frizell might have reasonably assumed that a 40-point Club Stableford win back in mid-May would constitute the high point of his 2018 campaign. However, the Woodford player blew that theory out of the water with a sensational nett 61 that granted him another first prize on 22 July.
Commencing proceedings with a handicap of 16, Frizell completed a fantastically serene front nine in six pars and three bogeys. And while his 42-shot homeward trek was a more topsy-turvy experience, a birdie at the 15th helped to seal Sunday glory for Gareth, who's now teeing it up as a 16-handicapper.
Perhaps the biggest surprise was that the winner's margin of victory was only a single stroke. For hot on Frizell's Spurs-loving heels was Jim Wray, whose blistering nett 62 saw him occupy the overall runner-up berth. Amid a fabulous gross 78, Wray fired an oul birdie on the Oul Coach Road and, satisfyingly, kept a double bogey off his scorecard. Jim may feel justifiably unfortunate to have missed out on the day's main accolade, but his well-earned new 14 handicap should provide some consolation.
Big Paul Doyle's one-over-par masterclass and accruing nett 65 took the category 1 plaudits just ahead of Mark Frazer on a break of tie. Frazer himself was very much on-song during a gross 74 that featured an awesome run of one birdie and 11 pars from the 4th to the 15th.
Dean Chambers displayed remarkable steadiness, as his 13 pars and five bogeys added up to a wonderful five-over-par 75. While the intense heat of the Sunday scoring meant, almost incredibly, that the ensuing nett 62 was good enough only for category 2 honours, this was great stuff from Dean and he's now playing off 12. Next to Chambers in the category 2 pecking order was Paddy Smyth, who turned in a fabulous display of his own. Smyth's gross 76 (nett 63) included 11 pars and a Ballyheridan birdie.
Finally, the head of the category 3 standings threw up a fierce battle of the O's. Shane O'Halloran backed up his runner-up performance in the previous day's Bankers Cup with a nett 66, which is no mean feat given the (usually frustratingly accurate) 'after the Lord Mayor's show' adage. Shane narrowly kept his nose in front of Enda O'Reilly, who racked up five pars on his way to a creditworthy nett 67.