It was on the hoisting of the official County Armagh Golf Club flag, which fluttered resplendently in the searing Cathedral City sunshine, that Colm Shannon's Captain's Day Weekend 2018 got under way in earnest.
With the lady members and juvenile girls and boys already having competed in their various categories earlier in the week, the club's male hopefuls filled the demesne's fairways on Friday 29 and Saturday 30 June with the aim of grabbing glory in the showpiece item on the club's fixture list.
This year's event was lent extra gravitas by the fact that the club is currently celebrating its 125th anniversary, and few can remember the County Armagh Golf Club Captain's Prize ever being competed for in such blistering temperatures or on a course that, although presented in absolutely immaculate condition, was so dry and bouncy after many rainless weeks that it offered an almost links-style challenge to the contenders.
There was no discernible difference in playing conditions between the two days, however, so the entire field was faced with the same stern but fair golfing examination – to the best performer the spoils.
Away from the sporting action, family, friends and members joined Colm for a Saturday coffee morning that provided the perfect opportunity for all those in attendance to catch up with old friends, admire the fantastic selection of prizes on offer, and wish our utterly dedicated, hard-working and forward-thinking Captain all the very best. The pristine clubhouse and environs and the refreshments enjoyed by everyone present also served as testimony to the club staff and volunteers who work so diligently to ensure that such events run smoothly.
Meanwhile, we were down to serious business back out on the golf course, where a magnificent nett 66 ultimately made Jim McMullan a most worthy Captain's Day Champion 2018.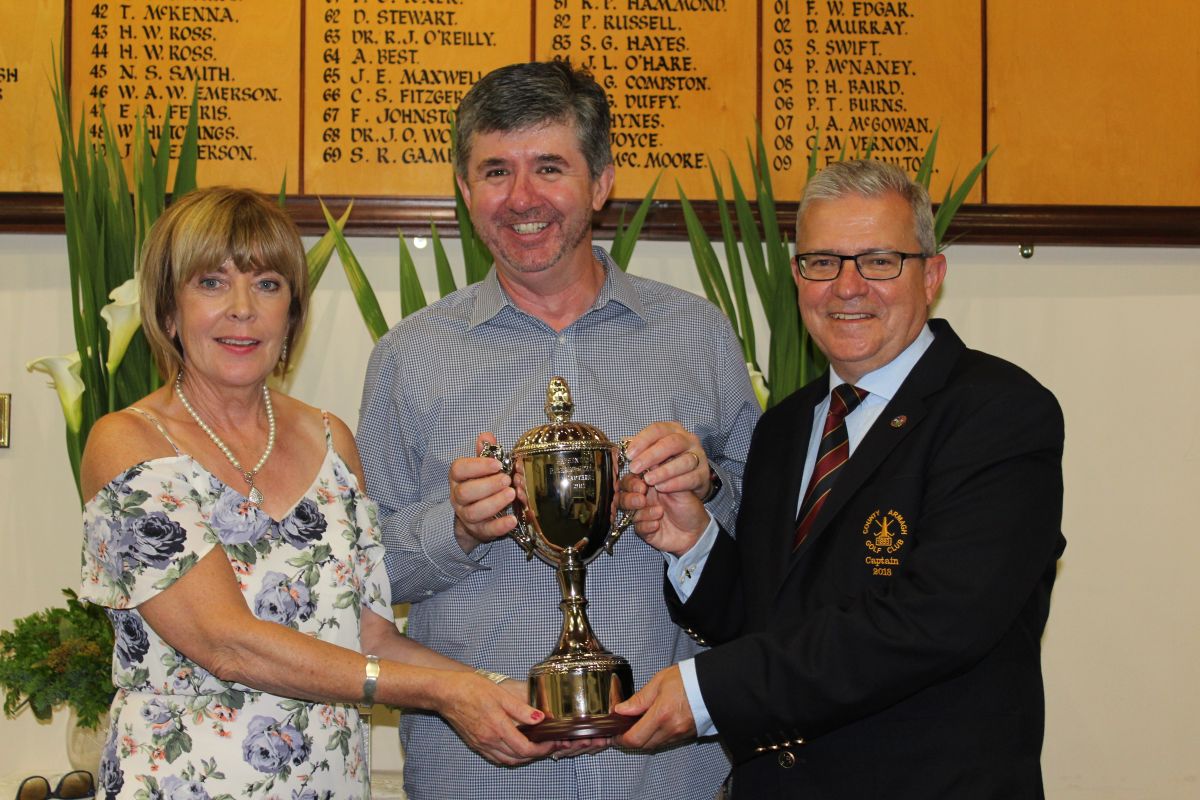 Winner of the County Armagh Golf Club Captain's Prize 2018, Jim McMullan, is awarded with the Captain's Cup by Club Captain, Colm Shannon, and his wife, Mary.
Jim's 79-stroke outing clipped his handicap from 13 to 12 but, much more importantly, landed him the most prestigious honour on offer in the County Armagh Golf Club calendar. And the impressiveness of the local GP's display was especially apparent when one considered how few players managed to beat their handicap on what were a subtly difficult couple of days for golf.
McMullan was clearly thrilled with his achievement and, on becoming the second recipient of the Captain's Day Perpetual Cup after Samuel Jenkins's triumph in 2017, he told a packed clubhouse at the presentation ceremony, "It is an absolute privilege to have won Colm Shannon's Captain's Prize."
"I feel like I've been trying to win a prize on Captain's Day for 125 years! My tip is to slice one out of bounds at the 2nd and, soon after, make an up-and-down from a wrong fairway, 70 yards too long and too left, that can only be described as 'scandalous'. After that, my round changed altogether."
Jim expressed his appreciation to all those who played a part in his momentous day: the greens staff, the catering staff, his playing partners Mark Frazer, Philip Russell and Andy Conn, his wife (for letting him play!) and, of course, Captain Colm for his "outstandingly generous" array of prizes.
Losing out to the Captain's Day victor only on a break of tie was runner-up Kevin Smyth, who also returned a marvellous nett 66. Kevin has been a prolific gatherer of prizes in recent weeks, and he proved himself to be a man for the biggest occasion too with a sub -90 showing that sees his handicap continue to fall.
On the category front, Mark Keogh took the plaudits in the 0-12 handicap section with a tremendous nett 67 scorecard that boasted one birdie, 9 pars and, significantly, just a solitary double bogey.
A treble bogey at the 1st was an inauspicious opening to Donal Moran's hunt for honours but the now 17-handicapper responded admirably. Back-to-back birdies at the 14th and 15th eventually helped Donal to a nett 68 and warranted category 2 preeminence.
An excellent handicap-equalling nett 70 granted Stephen Miller first place in category 3. He recorded pars at the 6th and 18th and, crucially, managed to prevent any real damage in what was a really steady offering.
A 71-stroke masterclass earned Adam Cromwell the gross award. Birdies at the 3rd, 4th, 7th and 8th had put the towering teenager four under par at that juncture before a few shots were understandably surrendered on the way home.
Not many at County Armagh get the job done as efficiently as Tom Calvert and his terrific nett 68 of nine pars and a birdie carried off the Past Captains' and Presidents' accolade. And birdies at the 12th and 15th were the highlights of a solid nett 71 that, fittingly, resulted in last year's Captain, Richard Stewart, securing the Council and Committee gong.
In the eclectic country, overseas and 18-24 age group classification, Glenn Baird was top man with a highly creditable nett 70, and an assured 37-point haul sealed the visitors' prize for Colm's friend and work colleague, Stephen Grimason.
The golfing contest was equally keen in the ladies' branch, where Teresa Corrigan's superb 40 points proved unbeatable. Teresa was pushed almost all the way by Maggie McKee, who filled the runner-up berth with a splendid 39 points of her own.
Prevailing among the senior and junior juvenile boys were Steve Donaghy and Ethan Doran respectively. Anna Jennings edged out her 18-hole juvenile girl rivals, while young Yasmin Monaghan tasted 9-hole success. Finally, the ladies' putting competition had a popular and unsurprising winner in the form of June Humphries.
After a most enjoyable Captain's Night Dinner, a busy clubhouse bar hosted the speeches and prizegiving. In proposing the vote of thanks, Honorary Treasurer, Pat McAleavey, spoke entertainingly but also paid sincere tribute to Colm Shannon as a Captain with "calm and courteous authority and high levels of commitment ... who has made an essential contribution under his vision for moving CAGC forward."
For his part, Colm articulated the honour that he continues to feel at representing this golf club as Captain. He made clear his genuine gratitude to all the many volunteers who play such a massive part in life at CAGC and to his wife, Mary, and son, Mark, for their unwavering support. Colm thanked heartily everyone involved for making his Captain's Weekend so special, and was delighted to report that a massive £2,500 had been raised for his chosen charity, namely Friends of the Cancer Centre.
The music played, the drink flowed and the craic raged until the shutters finally came down on another brilliant Captain's Day in County Armagh's Golf Club's illustrious history. Roll on 125 more.
CAPTAIN'S DAY 2018 ROLL OF HONOUR
CAPTAIN'S PRIZE
Jim McMullan nett 66 (back nine)
RUNNER-UP
Kevin Smyth nett 66
0-12 CATEGORY
Mark Keogh nett 67
13-18 CATEGORY
Donal Moran nett 68
19-28 CATEGORY
Stephen Miller nett 70
GROSS
Adam Cromwell 71
PAST CAPTAINS AND PRESIDENTS
Tom Calvert nett 68
COUNCIL AND COMMITTEE
Richard Stewart nett 71 (back nine)
COUNTRY, OVERSEAS, AGED 18-24
Glenn Baird nett 70
VISITORS
Stephen Grimason 37 pts
LADIES
1st Teresa Corrigan 40 pts
2nd Maggie McKee 39 pts
LADIES PUTTING
June Humphries
JUVENILE BOYS (SENIOR)
Steve Donaghy
JUVENILE BOYS (JUNIOR)
Ethan Doran
JUVENILE GIRLS (18-HOLE)
Anna Jennings
JUVENILE GIRLS (9-HOLE)
Yasmin Monaghan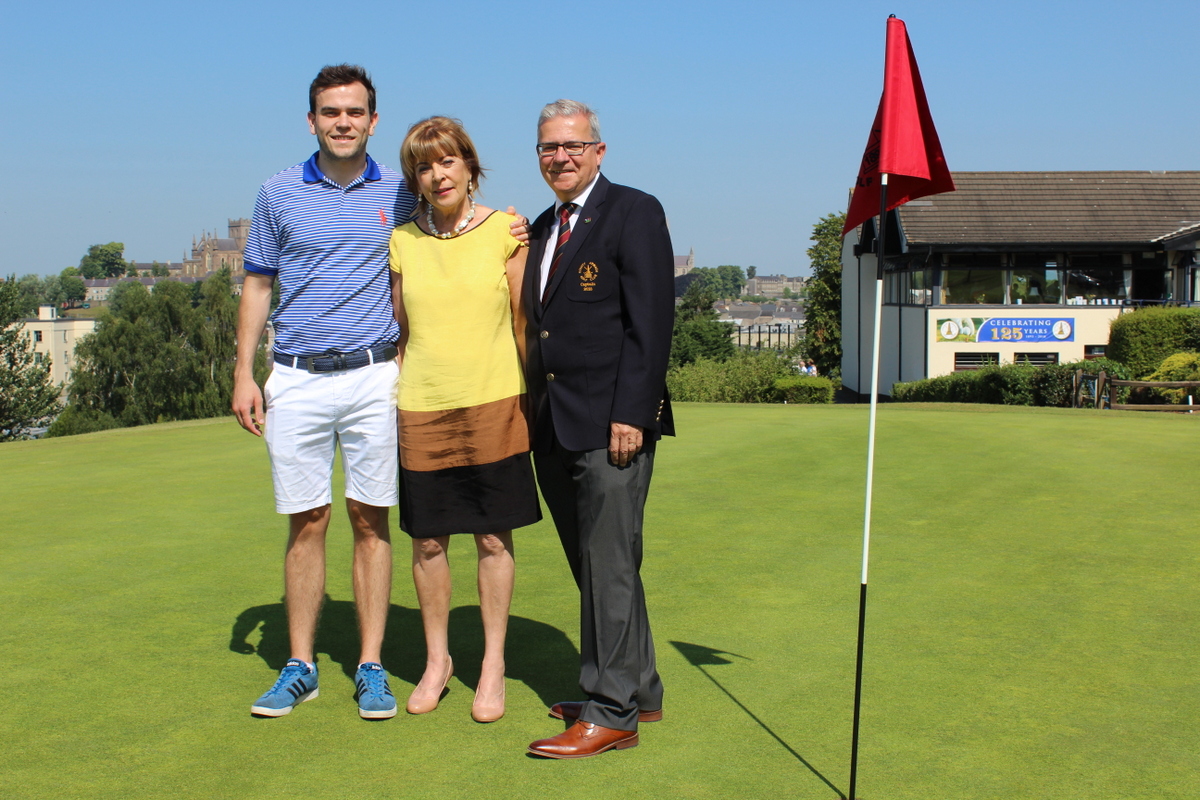 County Armagh Golf Club Captain, Colm Shannon, was joined by his wife, Mary, and son, Mark, for a family photograph on Captain's Day.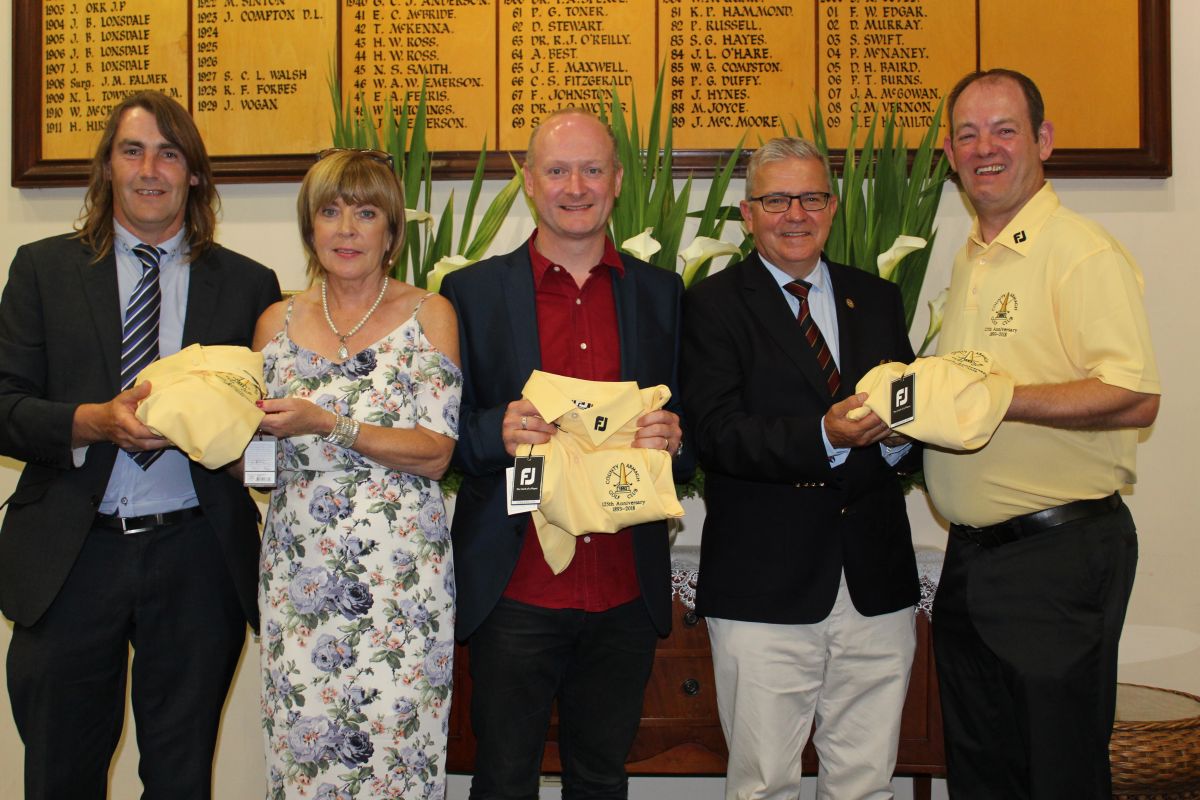 County Armagh Golf Club Captain, Colm Shannon, and his wife, Mary, present prizes to the Captain's Day Category Winners: (L-R) Stephen Miller, Donal Moran and Mark Keogh.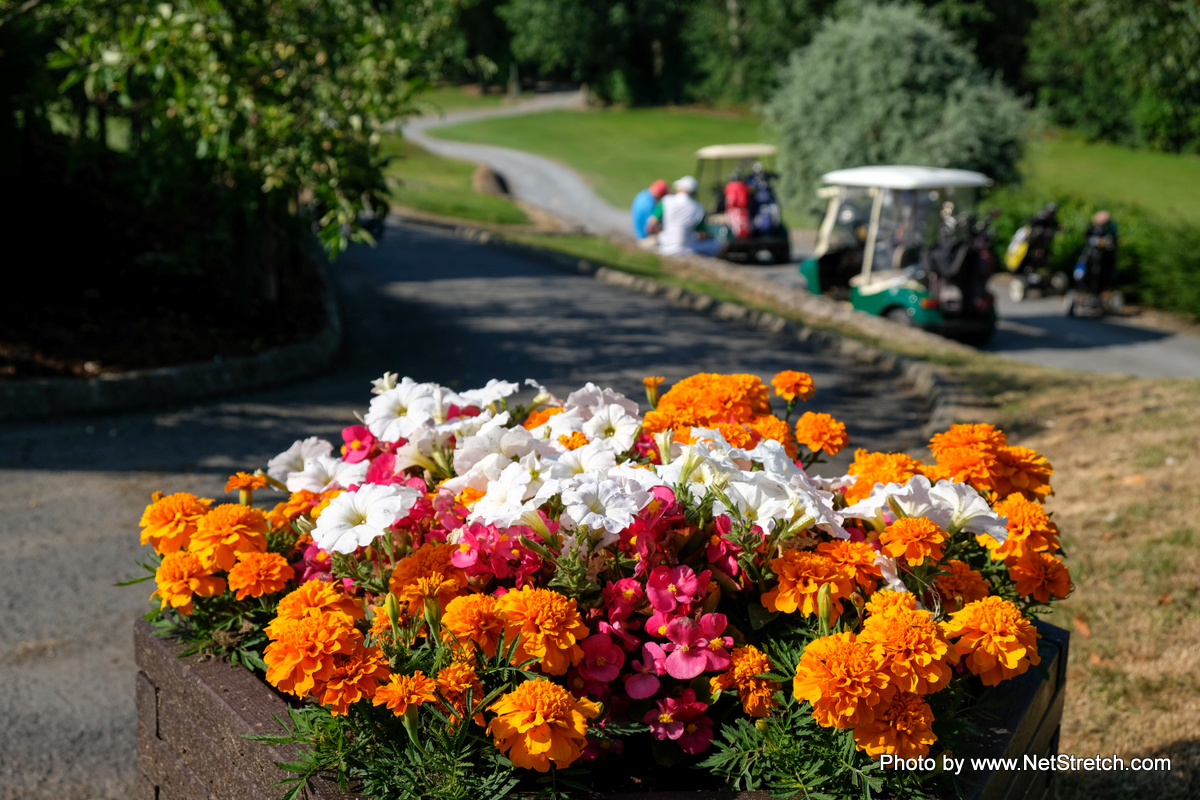 The beautiful condition of the County Armagh Golf Club course and surrounds on Captain's Day 2018 was testament to the committed efforts of the club's many volunteers.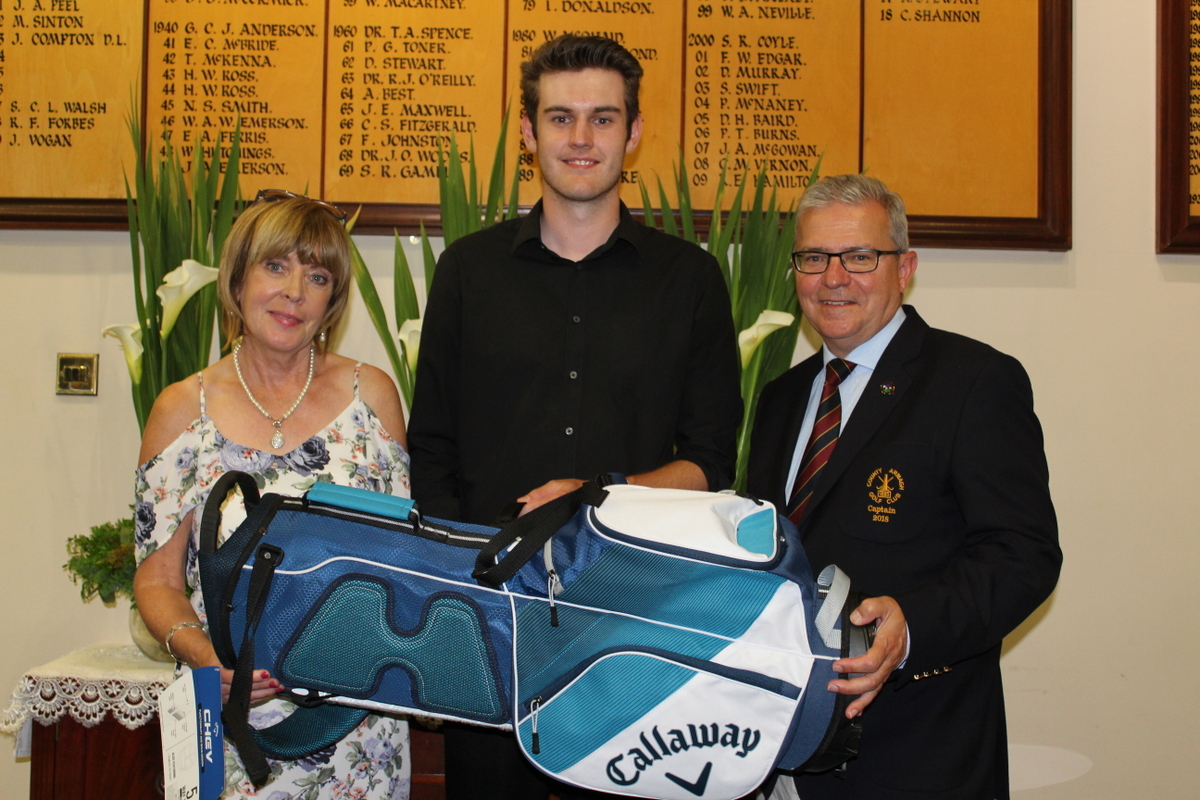 Winner of the Gross Prize on Captain's Day at County Armagh Golf Club was Adam Cromwell, who was presented with his prize by Club Captain, Colm Shannon, and his wife, Mary.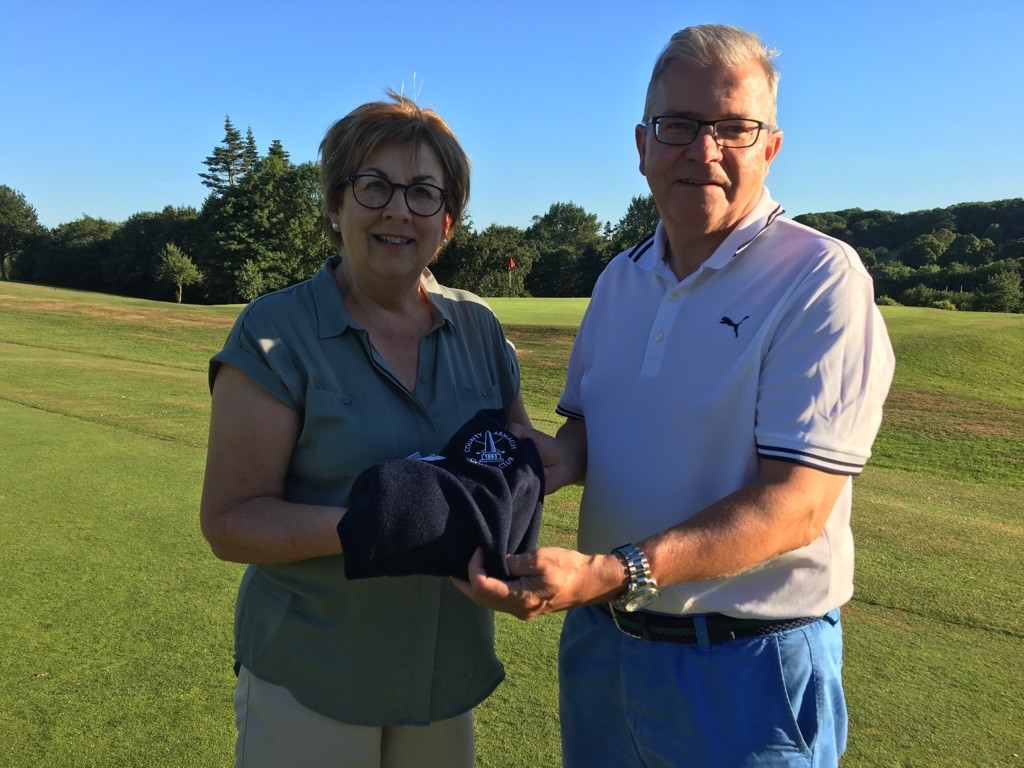 The Ladies' Competition winner on Captain's Day at County Armagh Golf Club was Teresa Corrigan, who was awarded her prize by Club Captain, Colm Shannon.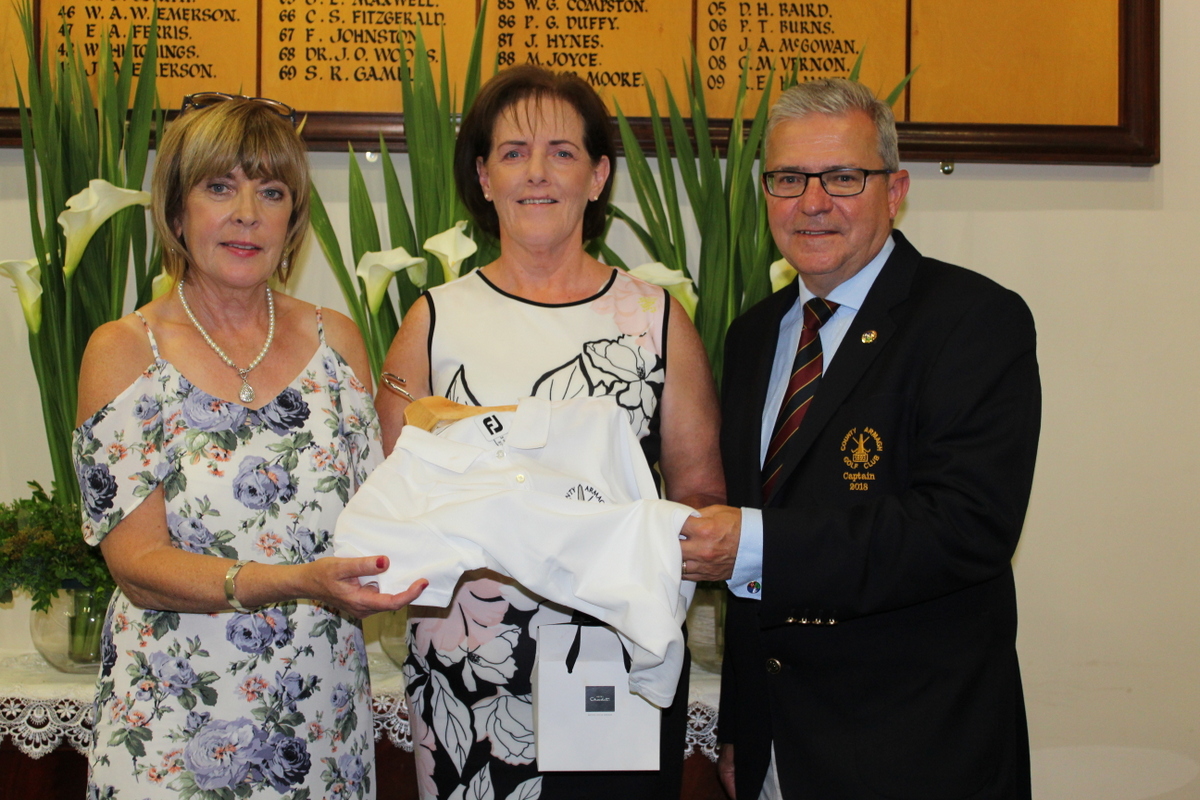 Maggie McKee, runner-up in the Ladies' Competition on Captain's Day, was presented with her prize by Club Captain, Colm Shannon, and his wife, Mary.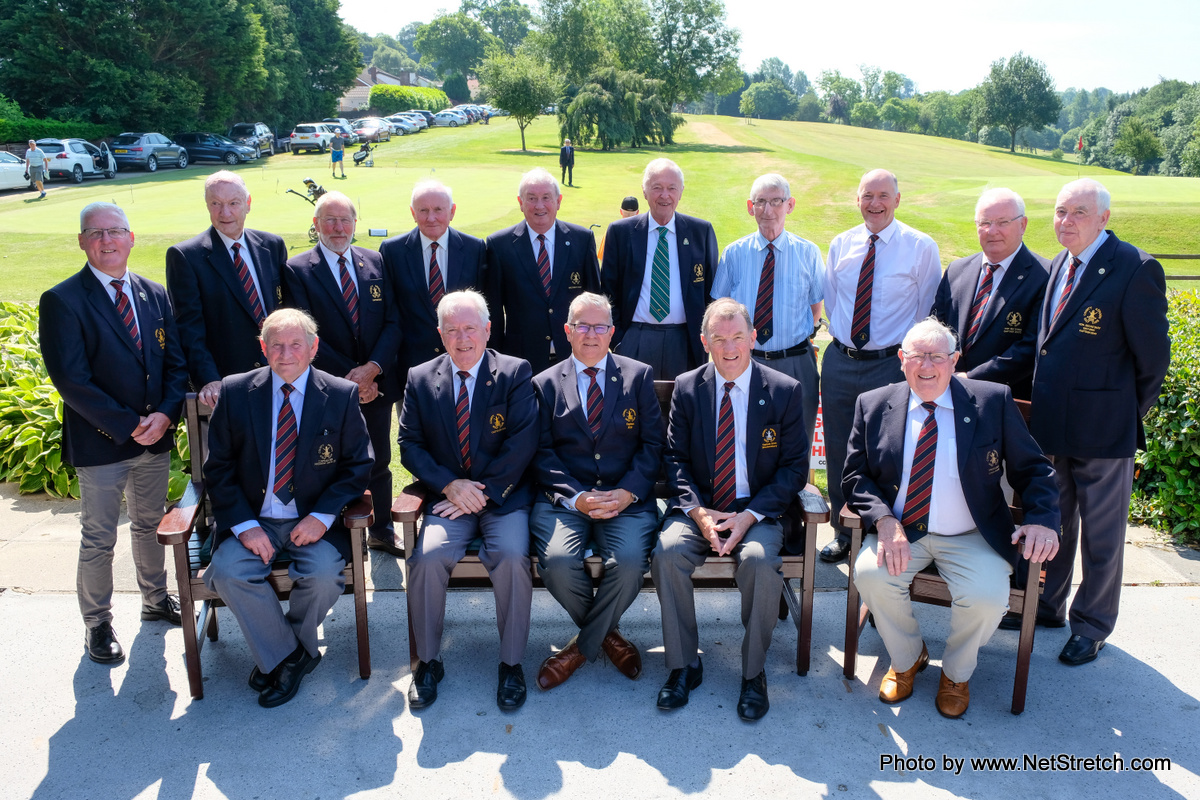 Past Captains and Presidents of County Armagh Golf Club joined current Captain, Colm Shannon, for this special photograph on Captain's Day 2018.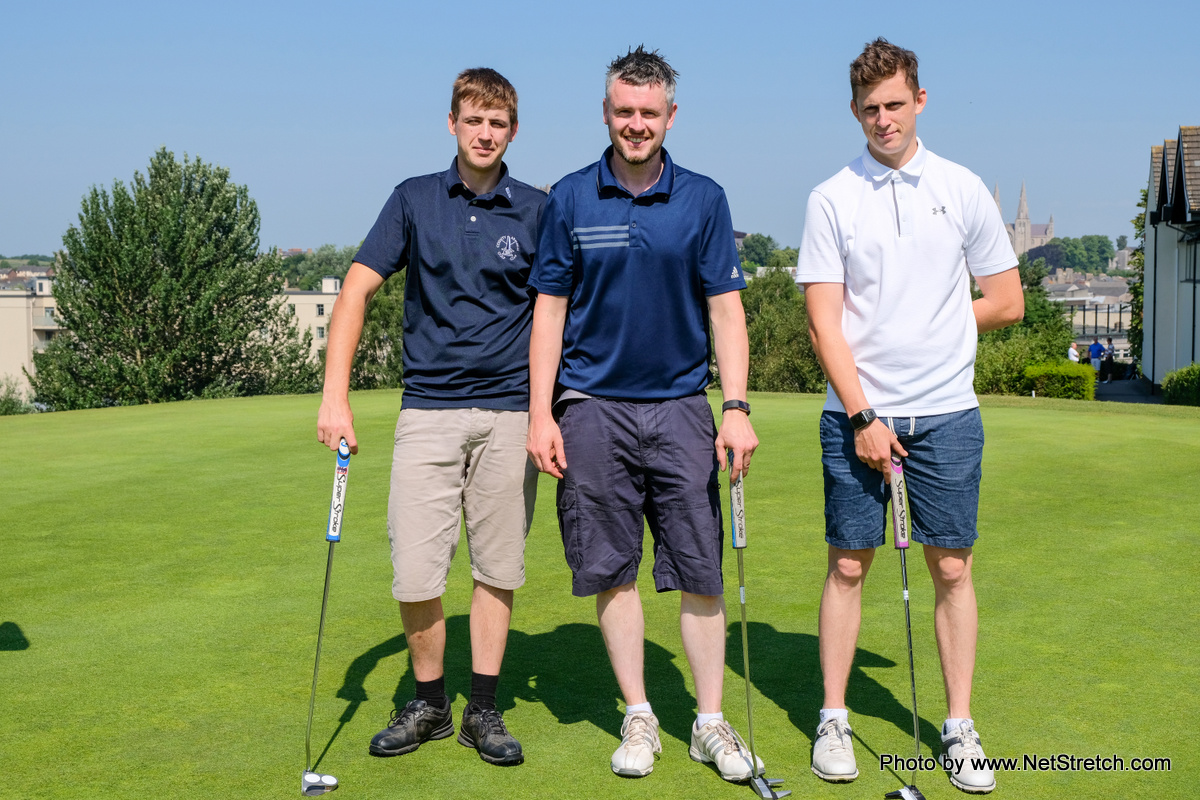 Captain's Day Runner-up Kevin Smyth (centre) is pictured on the completion of his excellent round with pals at County Armagh Golf Club.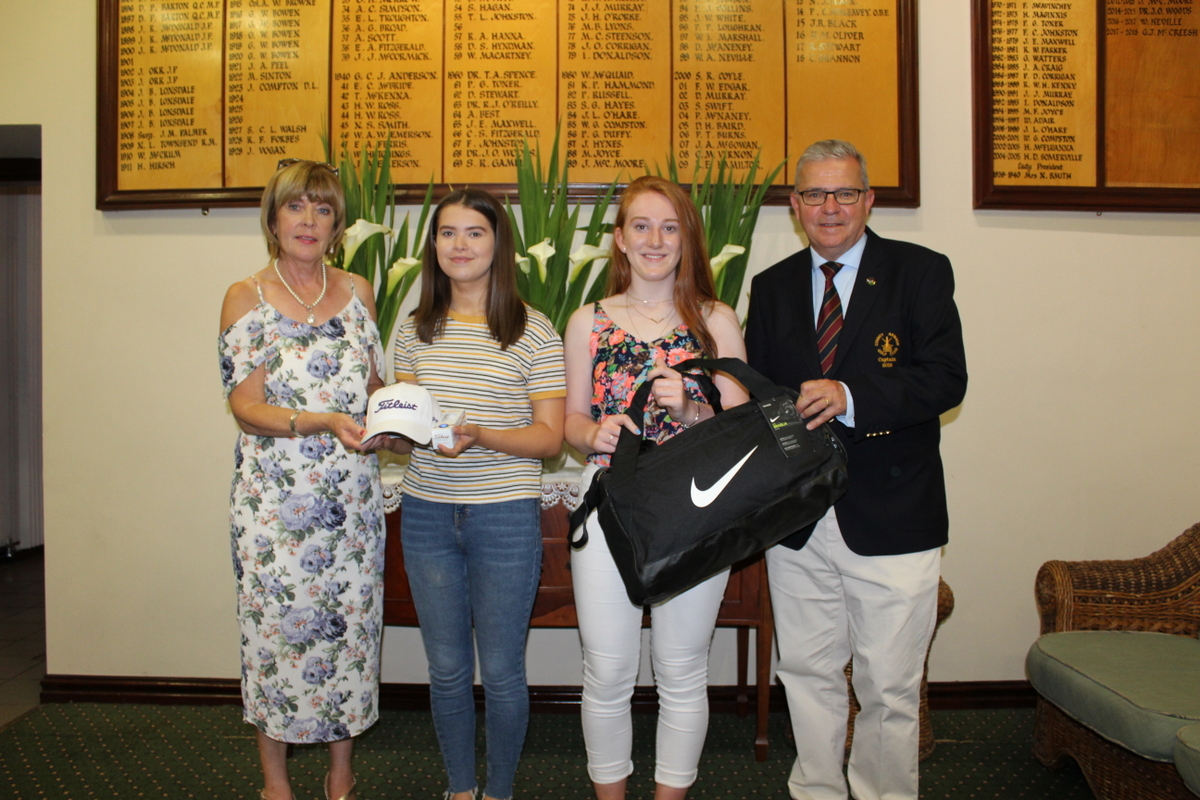 Winners of the Juvenile Girls' competitions on Captain's Day at County Armagh Golf Club, Yasmin Monaghan and Juvenile Girls' Captain, Anna Jennings, are presented with their prizes by Club Captain, Colm Shannon, and his wife, Mary.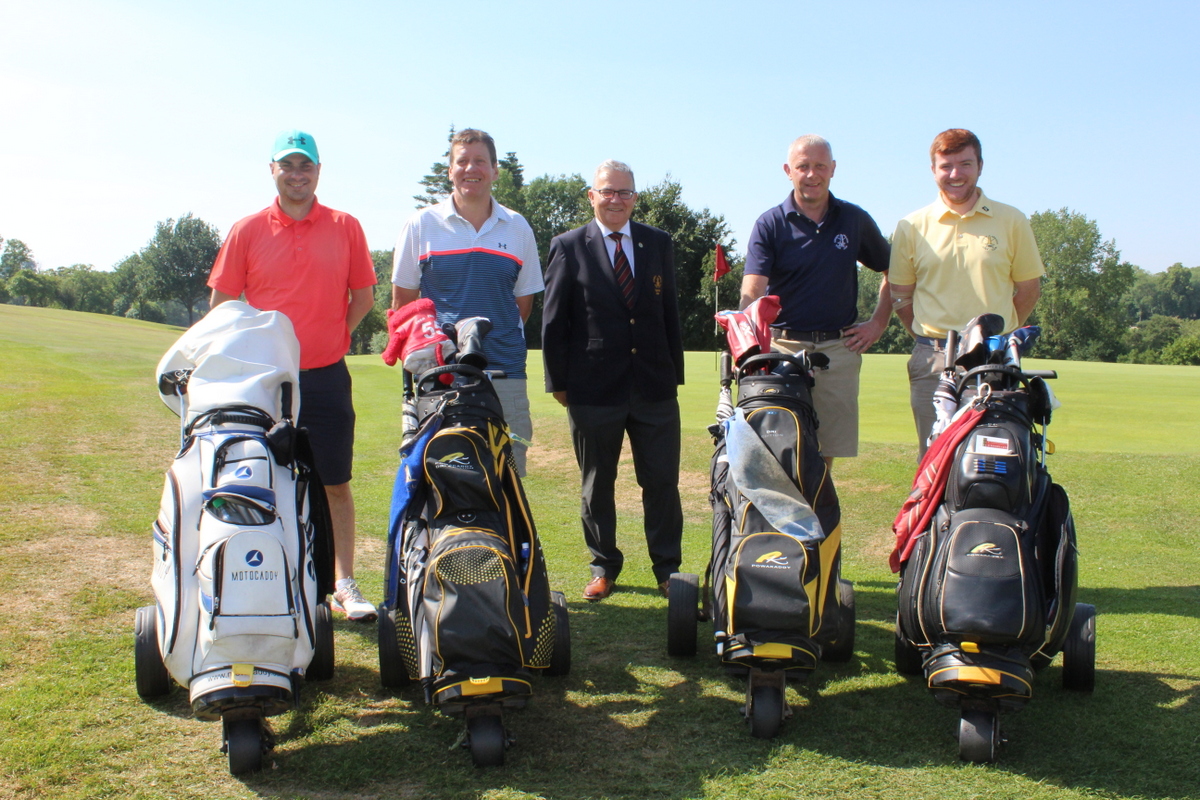 County Armagh Golf Club Captain, Colm Shannon, greets the first four-ball to complete their round on Captain's Day: (L-R) Darryl Lawson, Neil Linton, Brian Loney and Lee Stewart.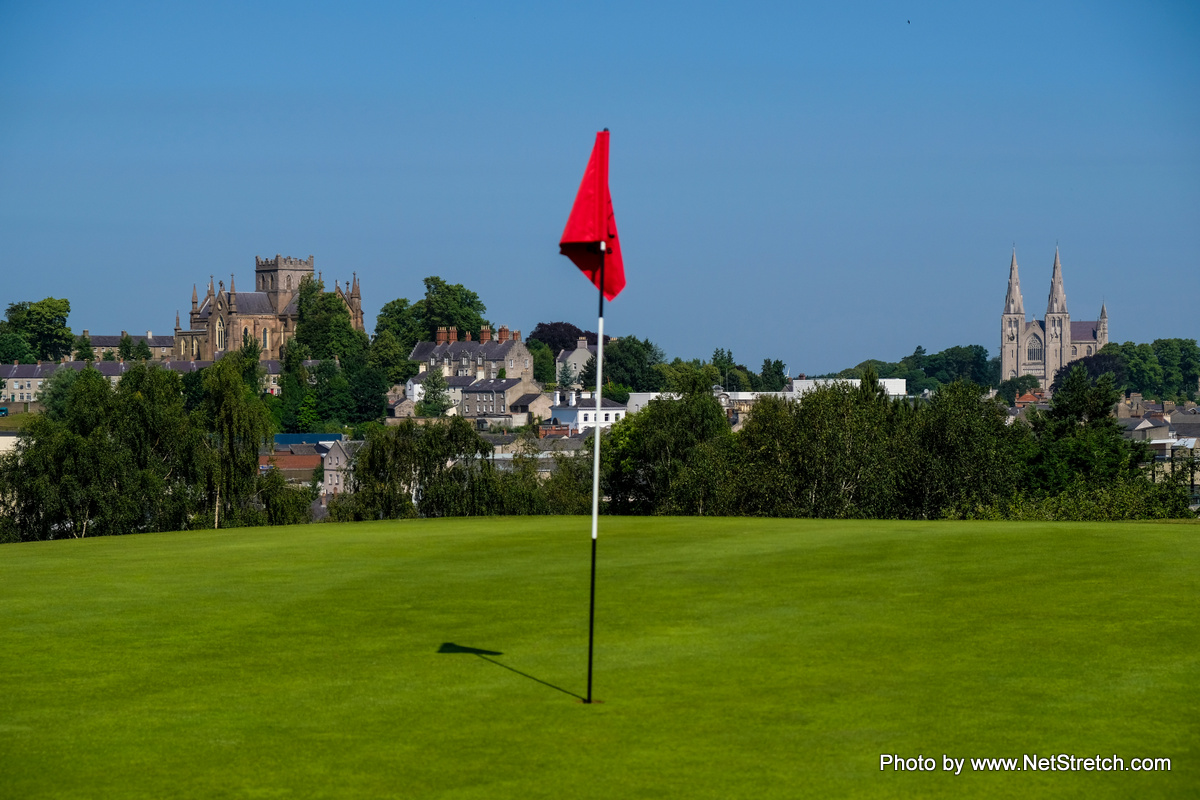 The Cathedral City provided a delightful backdrop to County Armagh Golf Club's 18th green, which was bathed in sunshine for Colm Shannon's 2018 Captain's Day.

County Armagh Golf Club Captain, Colm Shannon, and his wife, Mary, present Tom Calvert with the Past Captains and Presidents' Prize, and Richard Stewart with the Council and Committee prize.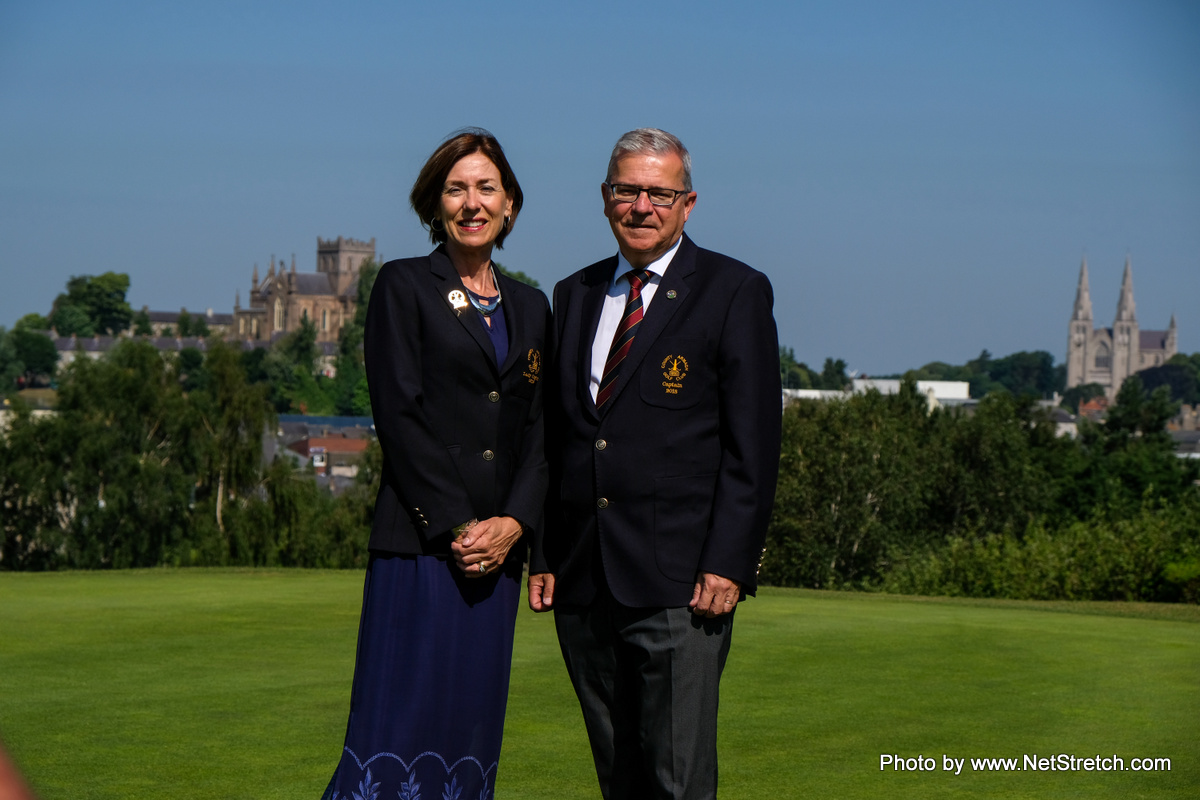 County Armagh Golf Club Captain, Colm Shannon, and Lady Captain, Elizabeth Mawhinney, are pictured on Captain's Day 2018.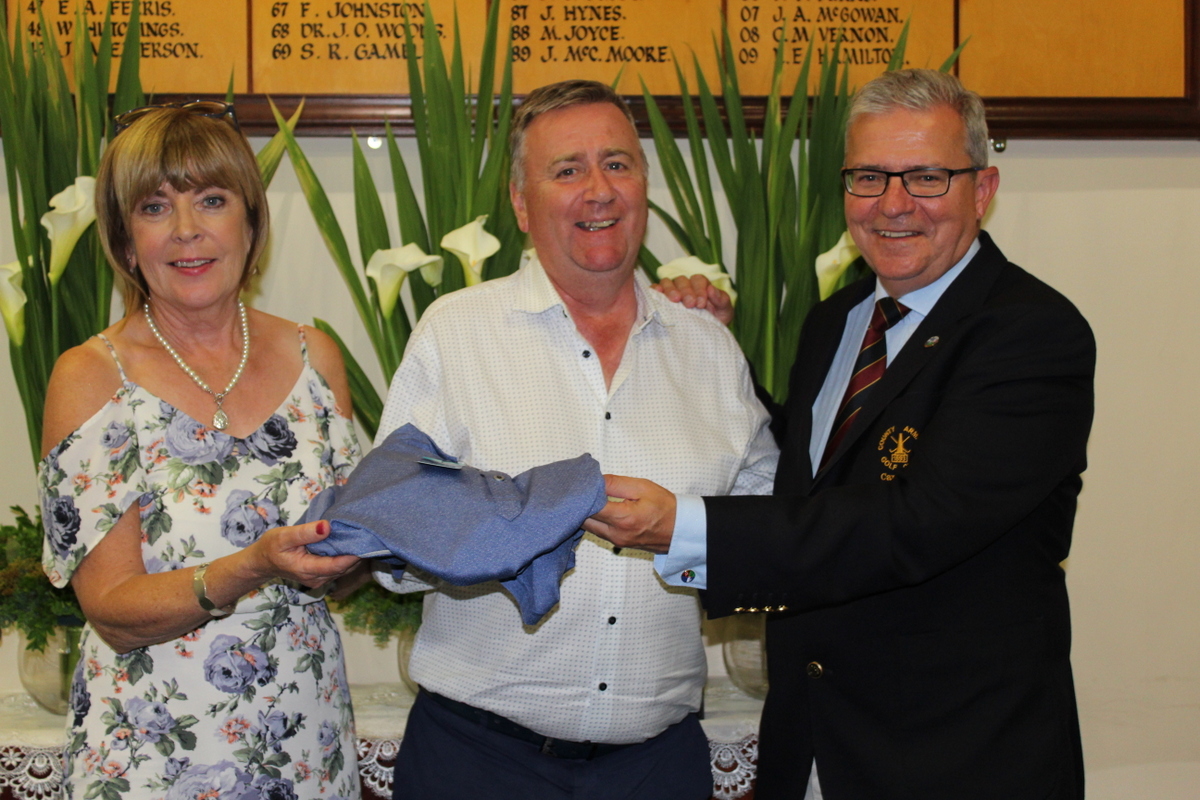 The Visitor's Prize on Captain's Day at County Armagh Golf Club was won by Stephen Grimason. Congratulating him are Club Captain and old friend, Colm Shannon, and his wife, Mary.

Long-time members of County Armagh Golf Club, Alan O'Donoghue, Denis Hughes, Dudley Marjoram and Damien Grimley, are pictured just before teeing off on Captain's Day 2018.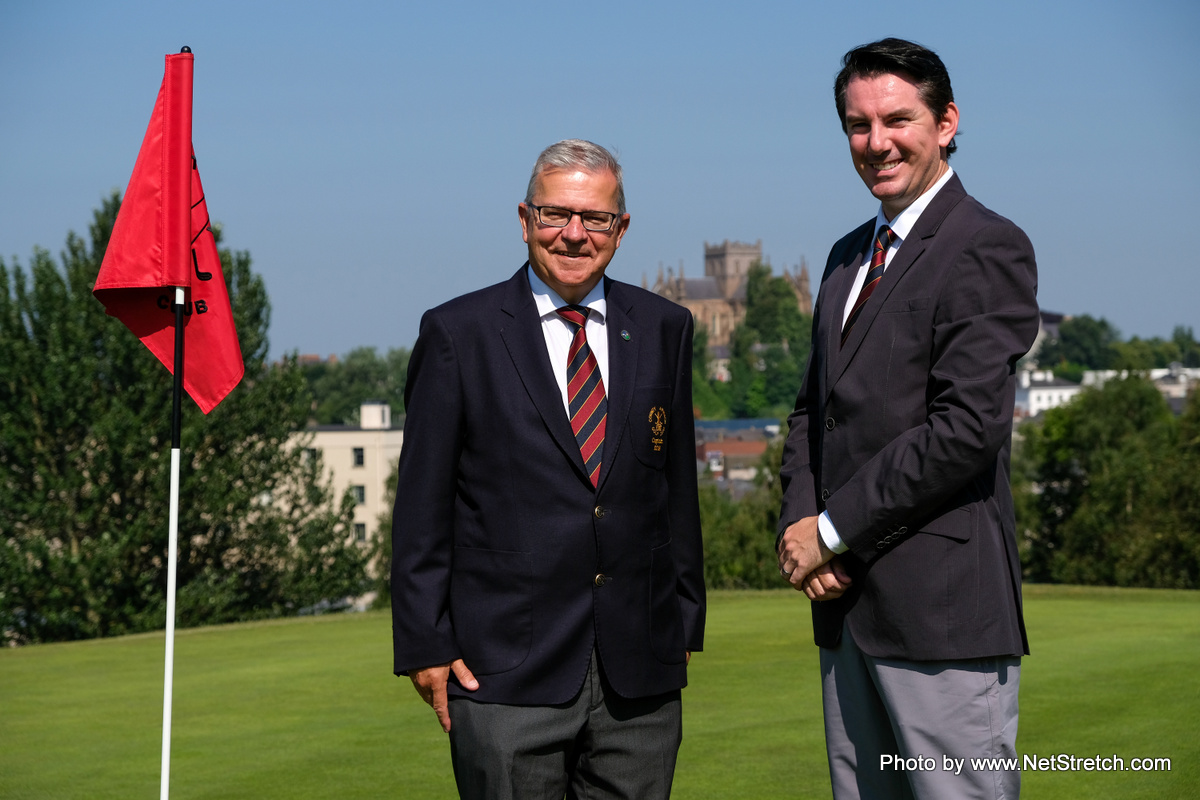 County Armagh Golf Club Captain, Colm Shannon, pictured with his Vice Captain, Kenny Edgar, on Captain's Day 2018.