As the globe's leading footballing nations fight it out for World Cup pre-eminence in the sprawling stadia of St Petersburg and Rostov, County Armagh's hopefuls took to the battlefields of St Brigid's Well and Rokeby Green in their quest for golfing glory in the Woods, Webster and Connolly Cups.
These events, which were held on Saturday 16 June, give players a rare opportunity to test their scratch mettle against rivals from the same handicap bracket and, once again, all three were kindly sponsored by Abbey Bond Lovis Insurance.
The Woods Silver Salver, which is competed for by 6-9 handicappers, was lifted by Rónan O'Reilly after his two-over-par gross 72. O'Reilly's excellent outing, which comes hot on the heels of his podium placing in the Lonsdale Cup earlier in the month, looked unlikely given a somewhat listless opening, but peaked with three birdies in five holes either side of the turn before a pleasingly par-heavy homeward dander.
Five shots adrift of the winner was another man in form, Neil Linton. A gross 77 of a dozen pars but no birdies perhaps lacked Linton's usual spark, but its admirable steadiness was sufficient to take second spot and maintain his good run.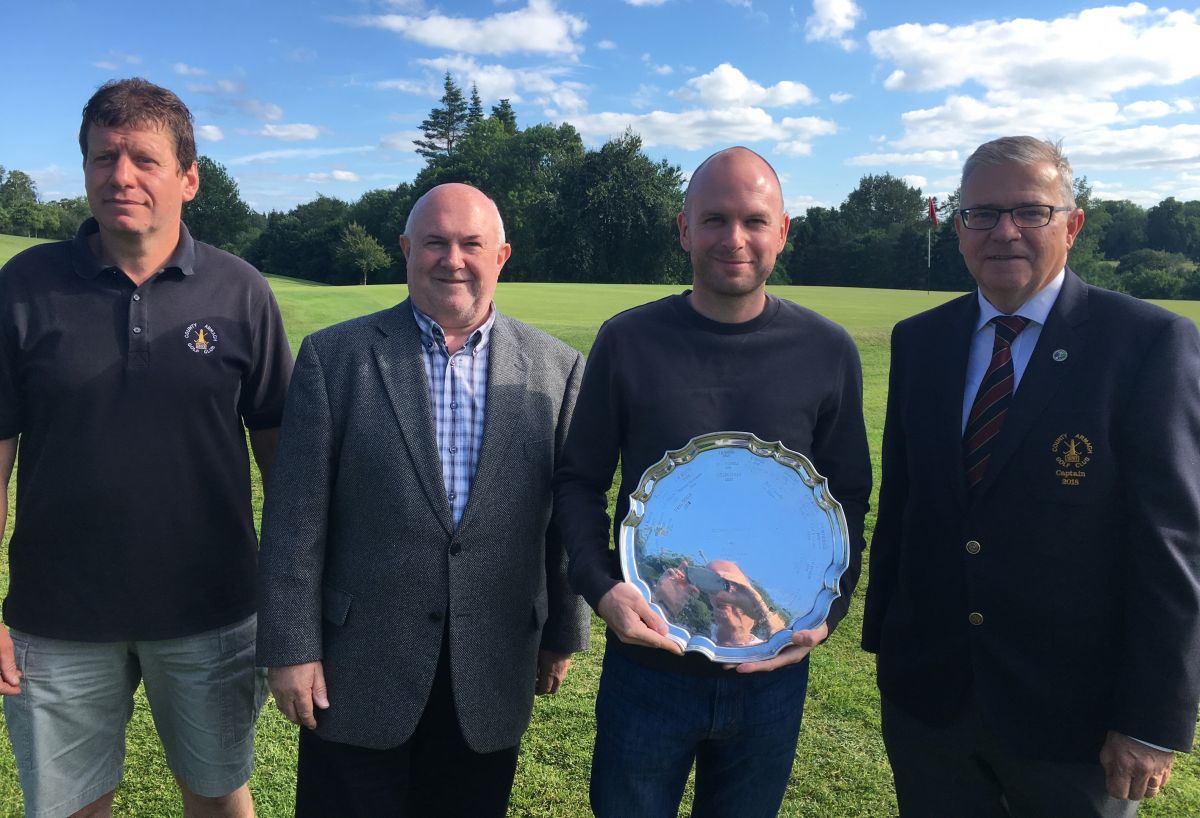 Woods Cup winner, Rónan O'Reilly, receives his prize from Ken Alderdice of competition sponsor, Abbey Bond Lovis Insurance, and County Armagh Golf Club Captain, Colm Shannon. Also pictured (far left) is runner-up, Neil Linton.
Those in the 10-18 handicap category contest the Webster Cup, and prevailing here was Conor McAneney by virtue of a terrific 78-stroke display. Conor was just four over par on each nine during an accomplished showing that featured nine pars and a birdie at the 4th. The resultant nett 64 means that the Webster Cup champion has taken receipt of a new handicap of 12 in addition to the coveted silverware.
Runner-up to McAneney was Kieran Grimley, whose characteristically solid, no-nonsense nine-over-par offering included 10 pars and just one double bogey at the difficult 5th hole. Conlon Rice secured the nett accolade in this section with a nett 67 that was boosted by a high-quality outward trek consisting of four pars and only 40 hits.
Triumphant among the 19-28 handicappers vying for the Connolly Cup was Paul McKeown with a gross 90. A highlights reel of this tournament-winning performance would no doubt focus on McKeown's splendid streak of three pars in four holes that concluded his front nine and could be added to those also registered at the 3rd, 12th and 14th. Given that he ultimately signed for a nett 70, it was only a ragged closing sequence that necessarily curtailed Paul's ambitions of sealing a handicap cut to go with his well-deserved trophy.
Indeed, McKeown would have bitten Eamon McCaffrey's hand off for the impressive 4, 4, 5 finish that helped the latter to a gross 92 and second place in the Connolly Cup standings. The nett honours here went to Kevin Smyth on account of his creditworthy handicap-equalling effort. Smyth recorded a hefty six-par salvo and is likely to appear in the prizes regularly so long as he can limit the damage when things go slightly awry.
Finally for the Saturday round-up, while there were no cups on offer for the 0-5 handicap group, their stroke competition yielded a victory for Adam Cromwell, whose consummate one-under-par round contained a blistering burst of five birdies in seven holes from Crossways to Ballyheridan. With the burden of A-level exam pressure having since been lifted from Adam's shoulders, we can probably expect such explosive antics to be repeated over the summer months.
Four days later in the Wednesday Open on 20 June, both the Open Stableford and Senior Open Stableford were won with wonderful 41-point totals. The visiting Tom Hopper showed the members how it's done in topping the seniors' leaderboard, while David Spratt Jnr proved peerless among the under-50s and will be playing off 15 next time out.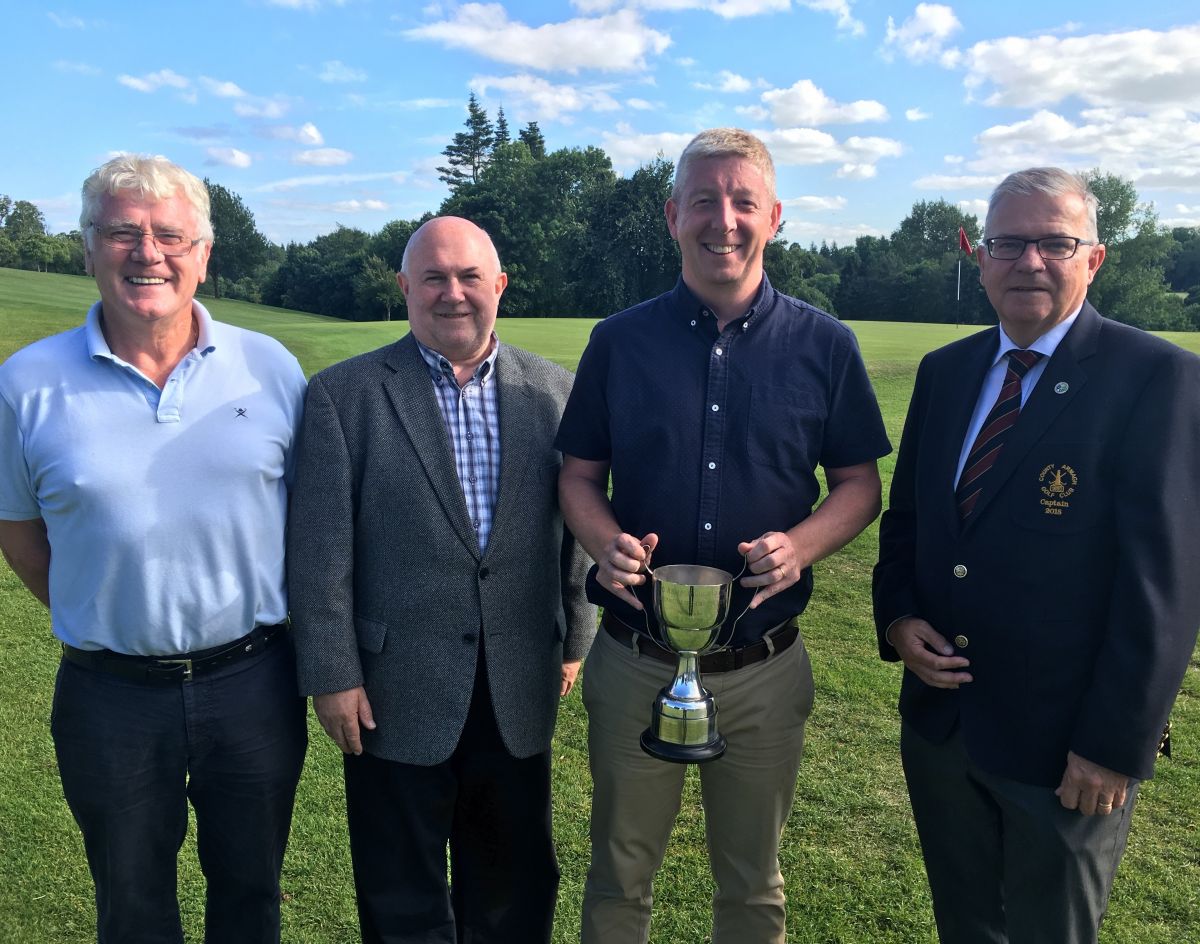 Webster Cup champion, Conor McAneney, was presented with the trophy by Ken Alderdice of competition sponsor, Abbey Bond Lovis Insurance, and County Armagh Golf Club Captain, Colm Shannon. Also pictured (far left) is Conlon Rice, winner of the nett prize.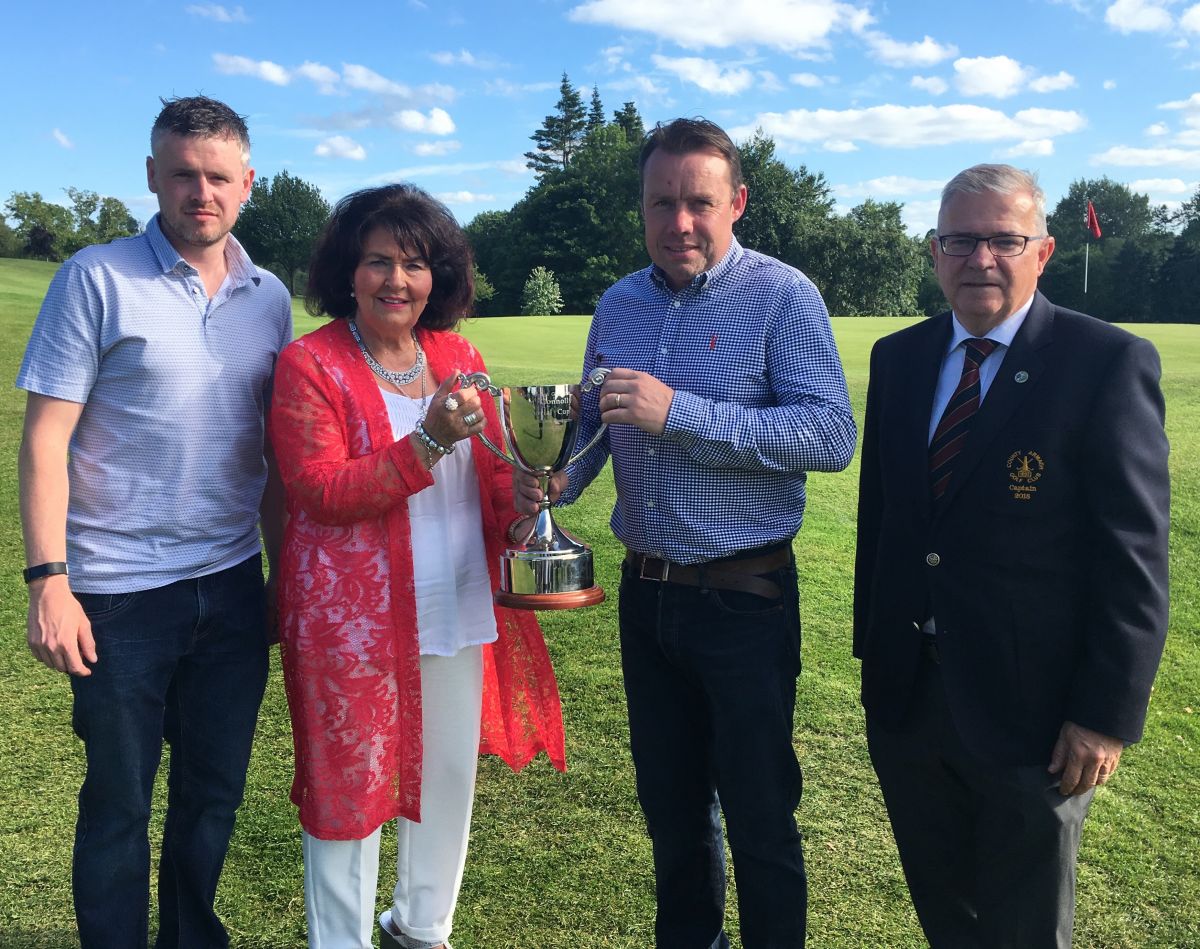 Paul McKeown was awarded with the Connolly Cup by Mrs Pat Connolly and County Armagh Golf Club Captain, Colm Shannon. Also pictured (far left) is Kevin Smyth, winner of the nett prize.