The April Medal is always a much-anticipated item on the County Armagh Golf Club fixture list, signifying as it does the beginning of the fully competitive season.
With the white markers in place for the first time, handicaps subject to fluctuation once more as a result, and the format stroke rather than stableford (the staple of winter golfing exchanges), it was all systems go on Saturday 21 April. Indeed, even the sun made a rare appearance to provide extra gloss to the tournament sponsored by S Millar & Son Painters and Decorators.
And all of the aforementioned conditions seemed to galvanize Adam Cromwell, who clinched the first Medal of 2018. The towering youngster did so in some style too, firing a superb level-par gross 70 on a day when a blustery wind made scoring far from straightforward.
Four birdies, including a purple patch of three in five holes from the 2nd to the 6th, helped Adam to the dominant position of two under par with three to play before a couple of shots were ceded over the notorious closing stretch. It all added up to a peerless nett 65, which means a no doubt welcome handicap clip from five to four and represents an accomplished launch of Cromwell's qualifying campaign.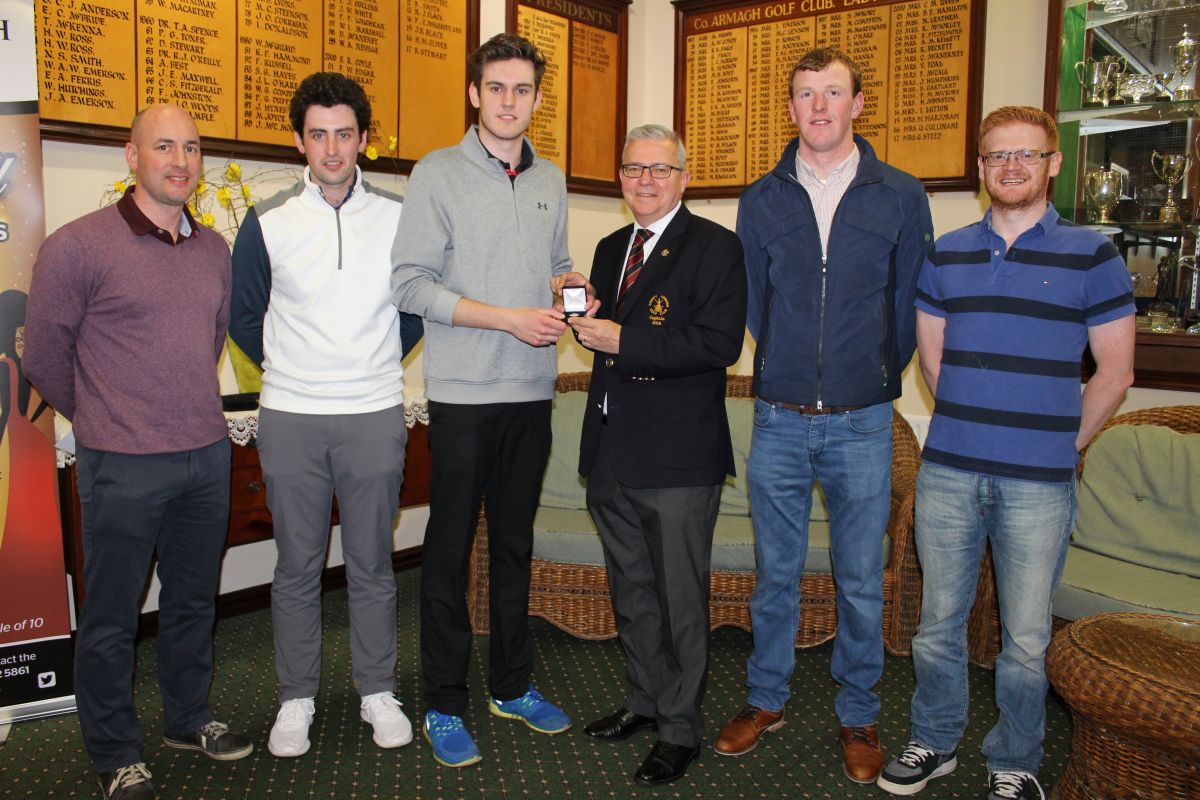 Adam Cromwell is presented with County Armagh Golf Club's April Medal by Club Captain, Colm Shannon. Also pictured are Andrew Millar (second from left) representing competition sponsors, S Millar & Son Painters and Decorators, and other prizewinners (L-R) Kevin McElvanna, Shea Smyth and Stephen Nugent.
Kevin McElvanna enjoyed a highly promising maiden year at County Armagh Golf Club in 2017, and he looks eager to carry on that good form this term.
The Madden luminary sealed second place overall with a magnificent nett 67 that included birdies at the 4th and 14th. McElvanna's downwardly mobile handicap now stands at 13 and, as he continues to feel more and more at home in these surroundings, few wise punters would bet against that figure dwindling still further over the coming months.
If an ugly treble bogey at the opening hole constituted something of a false start to Michael Cullen's front nine, birdies at the 10th and 12th ensured a fast start to his back nine. Cullen would ultimately take the category 1 crown through an excellent nett 68. Matching Michael's nett total but finishing as the category 1 runner-up after losing out in a break of tie was the current holder of the Golfer of the Year title, Shea Smyth, whose fine gross 71 featured four birdies.
A symmetrical scorecard showing four pars on each nine and 42 strokes on each nine earned Ian Ritchie a meritorious nett 68 and the category 2 top spot for the second time in a month. John McAleavey recorded a birdie and half-a-dozen pars while equalling Ian's final tally but had to settle for second prize in category 2 on account of his slightly inferior performance on the homeward trek.
Meanwhile, Stephen Nugent summoned Michael Cullen-style powers of recovery, bouncing back from a miserable quadruple bogey at the 1st to eventually return a more than creditable nett 69. As a consequence, Nugent captured the category 3 honours — his fourth award in as many weekends of singles events. The runner-up here, Dwayne Houston, registered the same nett 69 total having been aided by pars at the 9th and 17th.