With sporting attention turning to FIFA World Cup 2018 qualifiers over the next few days, the last couple of weekends heralded the end of County Armagh Golf Club's very own qualifying campaign.
In a stableford event on 24 September, Bill Knipe fired a gross 78 to earn a fabulous 43-point victory and a 15-to-13 handicap cut. Knipe reached the turn in 40 strokes for 19 points before a scintillating back nine of seven pars and two bogeys added a further 24 points to his abundant Sunday tally.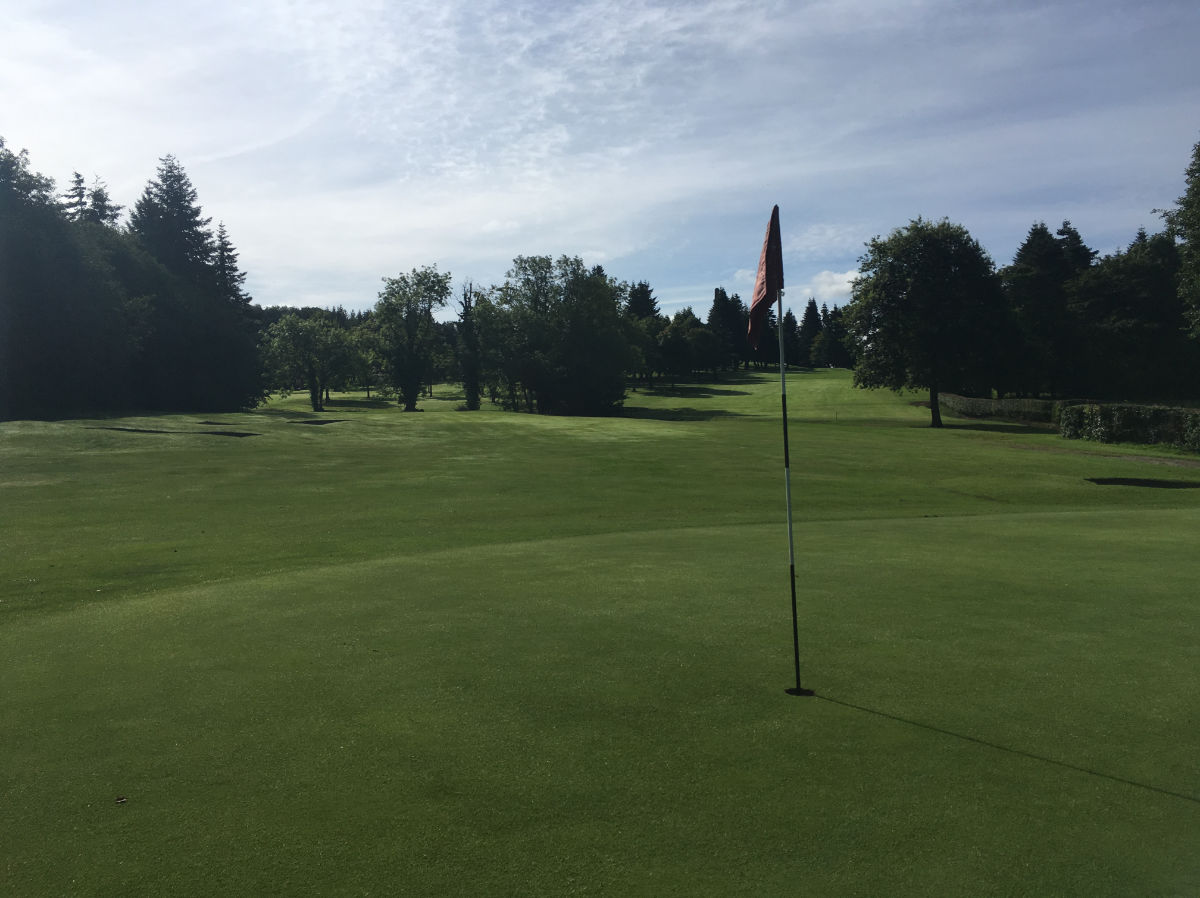 The 15th hole at County Armagh Golf Club: a thinking man's par 4.
Also clipping his handicap from 15 to 13 was Martin Grimley, who sealed the overall runner-up gong after a tremendous 41-point display that included birdies at the 13th and 15th and eight pars elsewhere.
Art McCrory posted a marvellous gross 77 featuring birdies at the 6th and 12th to match Martin's 41 points. McCrory lost out to Grimley on a break of tie but couldn't be denied the top honours in category 1, where Paul Doyle was runner-up on account of yet another outstanding performance, this time a gross 70 that also yielded 41 points.
A no-score at the 1st hole wasn't the start that Michael Calvert would've been hoping for but was long forgotten when he completed the next 17 in just eight over par. Calvert's excellent 39 points prevailed in category 2, edging Gavin McElmeel into second place. Gavin's birdies at the 8th and 18th were negated somewhat by no scores at the 9th and 17th, as he also scored 39 points but was pipped by Michael's more fruitful homeward haul.
Another McElmeel among the prizes was Tomas McElmeel, who tasted category 3 success. His fantastic 41-point return contained a hat-trick of pars on each nine and means he's now a 19-handicapper. Four points adrift of Tomas and in second spot was Tony Fagan, who carded a creditable 37 points.
The scoring was impressive once again on Saturday 30 September, when David Leeman emerged triumphant in the final qualifier of the year with a formidable 42-point offering. David's classy gross 77 incorporated no fewer than a dozen pars and kept him one point ahead of Charlie Vernon Jnr, whose mad dash to the 1st tee did him no harm as he proceeded serenely to record 12 pars, six bogeys and 41 points.
Leo King's regal 76-stroke showing was boosted by back-to-back birdies at the 2nd and 3rd, and his 40 points took the plaudits in category 1. Trailing Leo by a single point was runner-up Kieran Donnelly, who saw his handicap clipped back to seven as a result of a fine round comprising one birdie, 11 pars and six bogeys.
Four consecutive pars early in his back nine helped Andrew Steed on his way to a high-quality 38-point return and first position in category 2. Derek Little amassed the same total having birdied the 2nd and 9th, and he registered a second-place finish in this handicap bracket.
Cathal Cullen aced the 7th with a spectacular hole-in-one and retained his composure admirably to eventually sign for a magnificent 40 points that couldn't be bettered in category 3. Andrew Streahorn adopted the Michael Calvert model of messing up the 1st before going on to produce a brilliant day's play. His 39-point scorecard boasted half-a-dozen pars and secured the category 3 runner-up award. Meanwhile, a masterly, if almost customary, one-over-par 71 consisting of 13 pars, two birdies and three bogeys bagged the gross prize for Jerome Leer.
With the white markers having been put into storage for the next six months and handicaps unable to fluctuate during that hiatus, a stableford competition played off the green tees on Sunday 1 October kicked off the winter schedule. It was won by Cormac O'Hare, who racked up a wonderful total of 41 points.
Next on the fixture list are a Two-Ball Scramble and Two-Ball Classic on Saturday 7 and Sunday 8 October respectively before the six-week Winter League begins in earnest on Saturday 14 October.