With the course having taken such a battering from the seemingly incessant rain of recent weeks and yielding such little run as a consequence, good scores at County Armagh Golf Club are very hard-earned these days.
In such conditions, it's especially advantageous to possess the sort of animalistic hitting power that Thomas Murray has in his armoury, and indeed this proved to be the case as he took the top honours in a Club Stableford event on Saturday 16 September.
To focus solely on Murray's capacity for enormous distance would do a disservice to a deft short game that was also very much in evidence during this fantastic two-over-par outing. Thomas notched birdies at the 2nd, 7th, 10th and, most satisfyingly, the 18th, which arrested a potentially costly slide of three consecutive bogeys from the 15th to 17th. As it was, Murray's peerless 42-point return sealed a comfortable competition victory and a deserved eight-to-seven handicap reduction.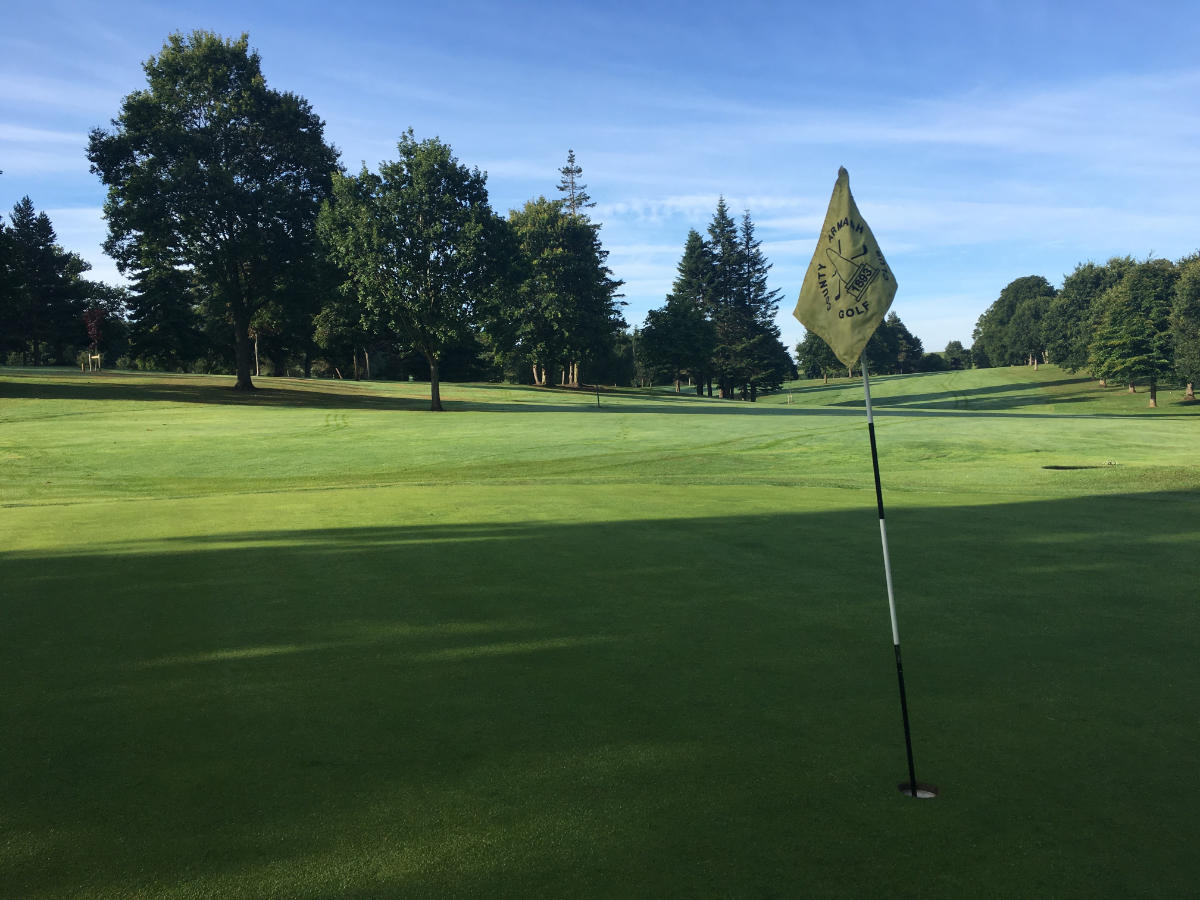 The 6th at County Armagh: an easy hole on paper; a little more tricky on grass.
Trailing Thomas by three points and occupying the Saturday runner-up berth was Ian Millar. This 11-handicapper often reserves his best golf for the weekly Wednesday Opens, but a splendid 39-point round comprising 10 pars and eight bogeys showed that he can produce the goods on any day of the week.
Paul McCurry followed up his third-place finish in the Half Century Cup a fortnight previously by winning the category 1 plaudits here. McCurry's 39-point haul would have been even heftier only for a no-score at the 15th, but the 10-handicapper will no doubt be content to add another prize voucher to his growing collection. Mark Loughran played quite beautifully while negotiating his opening 14 holes in two under par, although his haemorrhaging of four shots over the closing stretch eventually limited the three-handicaper's ambitions to 38 points and the category 1 runner-up gong.
Six pars in seven holes either side of the turn helped Garrett O'Reilly to top spot in category 2. This terrific 39-point showing clips O'Reilly's handicap to 15 as he finishes the season strongly. Second place in category 2 went to Johnny Palmer, who birdied the 12th and scored five pars before signing for a solid 37 points.
Prolific prizewinner Thomas Crow prevailed in category 3 with a scorecard that, just like Palmer's, boasted a birdie and five pars. Crowe's excellent 38 points kept him three clear of Gary Jordan, who posted half-a-dozen pars on his way to a creditable 35 points and second position in category 3.
Stewart Stevenson was a breathtaking four under par for his first eight holes and, although he would proceed to drop five strokes in the remaining 10, the two-handicapper bagged the day's gross accolade by virtue of a wonderful one-over-par performance.
Twenty-four hours later, Ciaran McCreesh recaptured the sort of form that saw him collect so many prizes earlier in the 2017 campaign, as he emerged triumphant in another Club Stableford tournament on Sunday 17 September.
Benefitting greatly from the expert use of a driver so kindly donated to him by older brother and apparent golfing philanthropist, Jim McCreesh, Ciaran performed tremendously in gathering 42 points. McCreesh the younger's gross 85 featured birdies at the 6th and 10th and means, impressively, that he's managed to slash his handicap by no fewer than six shots since the qualifiers began in April.
A stunning eagle at the 8th and birdies at the 12th, 14th and 17th, which ultimately contributed to a one-under-par back nine, were the highlights of Niall Brady's majestic gross 71 as the Sandy Hill FC stopper secured the day's runner-up prize on 40 points.
In category 1, Paul Doyle saw off his rivals with 40 points accrued via another marvellous one-over-par offering made up of 15 pars, two bogeys and a birdie. Two points adrift of Doyle and securing the category 1 runner-up award was Paul Smyth, who carded a birdie and 10 pars in his accomplished gross 78.
Yet another Paul was among the prizes as symmetrical nines of 42 shots each enabled Paul Morgan to rack up an excellent 39-point total that conquered category 2 and means he'll be playing off 16 next time out. Colin Hughes was next to Morgan in the category 2 reckoning on account of his meritorious 37 points. Hughes parred half the holes on the course and would have found himself much higher up the overall standings had he been better able to limit the damage elsewhere, most notably the 9th.
Michael Crozier's handicap-levelling 36-point salvo included two pars on each nine and was the best among the category 3 contenders, and Turlough Brady ensured that two of the Sunday prizes would be heading to the Brady household as a creditable 34-point display was enough for him to fill the category 3 runner-up slot.
Meanwhile, Ian O'Hea was enduring one of the most punishing rounds of his fruitful golfing year — put simply, he was having a mare — before a hole-in-one at the 13th brightened up proceedings no end. Anything Conlon Rice can do, Ian O'Hea can do!