It was on the hoisting of the official County Armagh Golf Club flag, which fluttered resplendently in the searing Cathedral City sunshine, that Colm Shannon's Captain's Day Weekend 2018 got under way in earnest.
With the lady members and juvenile girls and boys already having competed in their various categories earlier in the week, the club's male hopefuls filled the demesne's fairways on Friday 29 and Saturday 30 June with the aim of grabbing glory in the showpiece item on the club's fixture list.
This year's event was lent extra gravitas by the fact that the club is currently celebrating its 125th anniversary, and few can remember the County Armagh Golf Club Captain's Prize ever being competed for in such blistering temperatures or on a course that, although presented in absolutely immaculate condition, was so dry and bouncy after many rainless weeks that it offered an almost links-style challenge to the contenders.
There was no discernible difference in playing conditions between the two days, however, so the entire field was faced with the same stern but fair golfing examination – to the best performer the spoils.
Away from the sporting action, family, friends and members joined Colm for a Saturday coffee morning that provided the perfect opportunity for all those in attendance to catch up with old friends, admire the fantastic selection of prizes on offer, and wish our utterly dedicated, hard-working and forward-thinking Captain all the very best. The pristine clubhouse and environs and the refreshments enjoyed by everyone present also served as testimony to the club staff and volunteers who work so diligently to ensure that such events run smoothly.
Meanwhile, we were down to serious business back out on the golf course, where a magnificent nett 66 ultimately made Jim McMullan a most worthy Captain's Day Champion 2018.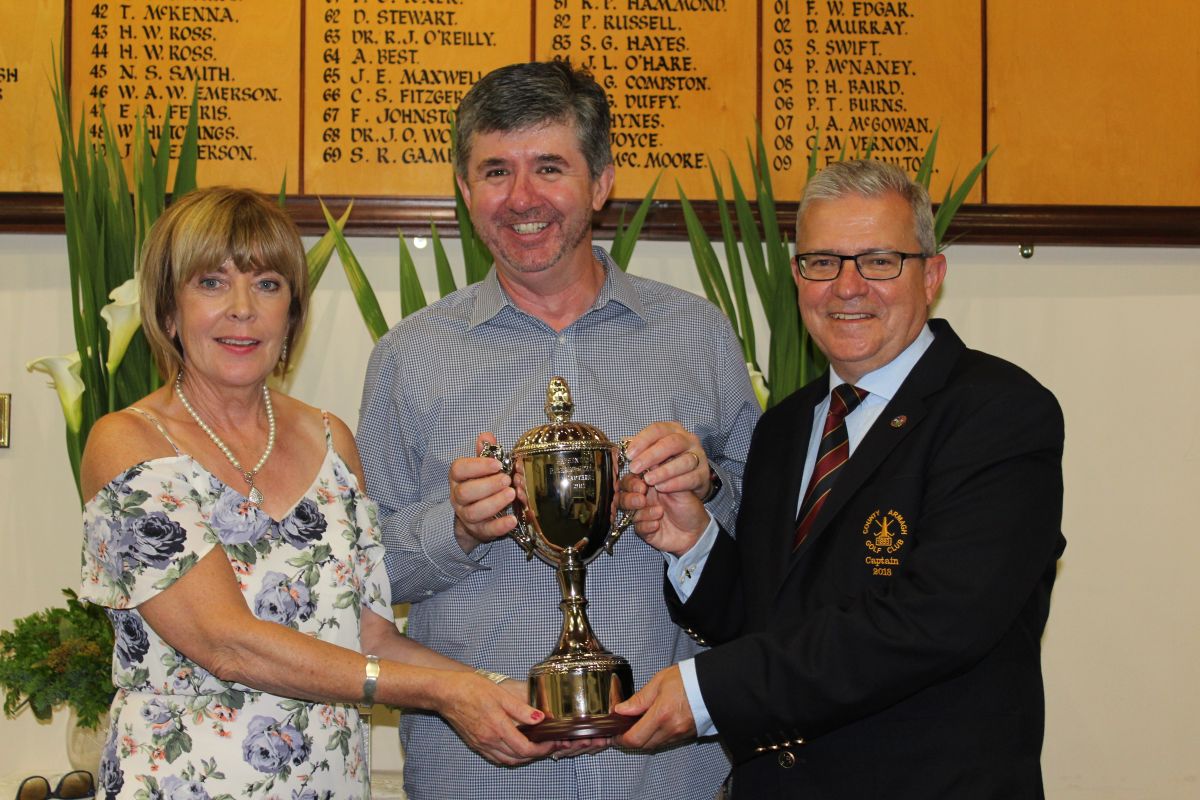 Winner of the County Armagh Golf Club Captain's Prize 2018, Jim McMullan, is awarded with the Captain's Cup by Club Captain, Colm Shannon, and his wife, Mary.
Jim's 79-stroke outing clipped his handicap from 13 to 12 but, much more importantly, landed him the most prestigious honour on offer in the County Armagh Golf Club calendar. And the impressiveness of the local GP's display was especially apparent when one considered how few players managed to beat their handicap on what were a subtly difficult couple of days for golf.
Details

Parent Category: News & Results
Category: Men - News & Results