Traipsing aimlessly around IKEA. Wrestling glumly with garden weeds. Perching on a bar stool but wishing dearly to be somewhere else. These are perhaps just some of the ways in which County Armagh's male membership tried, and most likely failed, to cope with a rare golf-less Saturday on 1 September, when the Ladies' Armaghdale Cup took precedence.
Twenty-four hours later, then, 146 coiled-spring hopefuls were positively chomping at the bit to get back out on the fairways and stake their claim for September Medal glory. And alongside Adam Cromwell, Stephen Nugent, Keith Stewart, Brendan Arthurs and Andrew Conn, the name of Tomas McElmeel can now be added to the final list of CAGC's 2018 monthly Medal recipients.
In the competition sponsored by Holmes and Doran Surveyors Ltd, McElmeel plundered the Sunday spoils with a superb nett 66. The winning round had started in unpromising fashion, but Tomas soon found his stride with four consecutive pars from the 4th to the 7th.
Then, on the homeward strait, a birdie at the 15th backed up further pars at the 11th, 13th and 14th and ultimately cemented a fine Medal success. McElmeel will no doubt be chuffed at acquiring a one-shot handicap reduction in addition to the September silverware.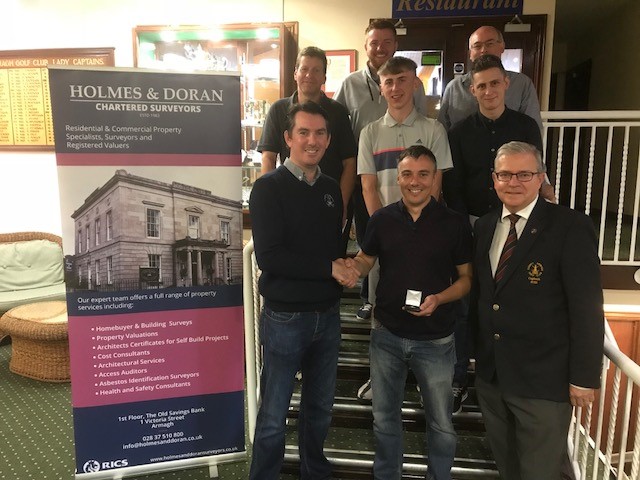 Tomas McElmeel, winner of County Armagh Golf Club's September Medal, receives his prize from Club Vice Captain Kenny Edgar, representing competition sponsors, Holmes and Doran Chartered Surveyors. Also pictured are Club Captain, Colm Shannon, and other prizewinners Neil Linton, Lee Stewart, Martin Carson, Calum Connell and Simon Arthurs.
Details

Parent Category: News & Results
Category: Men - News & Results